Volunteer Now Armagh & Dungannon has been selected as one of the organisations to host a visit from the Northern Ireland leg of The Big Walk, a 250 mile journey across the UK which shines a light on people at the heart of communities.
An initiative from Eden Project Communities, in pa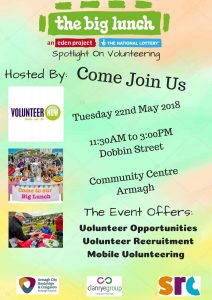 rtnership with the National Lottery, The Big Walk will be coming to Dobbin Street Community Centre in Armagh on Tuesday 22 May from 11:30am-3pm to showcase volunteering in action.  The team will be walking up an appetite for The Big Lunch on Sunday 3 June, a nationwide event which invites neighbours everywhere to get together for friendship, food and fun.
Volunteer Now Armagh & Dungannon in partnership with Armagh City, Banbridge & Craigavon District Council, Southern Regional College and Clanrye Group are putting volunteering in the spotlight to celebrate Volunteer Week, as we highlight the amazing projects the public can get involved with across the Armagh area.
With more than 30 organisations and groups taking part there will be no shortage of volunteering information, recruitment and opportunities. Come join us and witness mobile volunteering in action as our current volunteers showcase projects that have helped raise money for Marie Curie and Oxfam.
Help us welcome walkers from 'The Big Walk' as they make their way in from the outskirts of Armagh and work up an appetite for the Big Lunch. Walkers include The Lord Mayor Alderman Gareth Wilson, Volunteer Now CEO Denise Hayward and Walk Leader Michael Conlon.
Lunch will be served in the Centre alongside the chance to mingle and exchange ideas aimed to enrich the local area and indeed the lives of local people. Come on down and show your support for our area, our people and our volunteers.
For more information on how to get involved contact Eamon Murphy on 07850851821 or