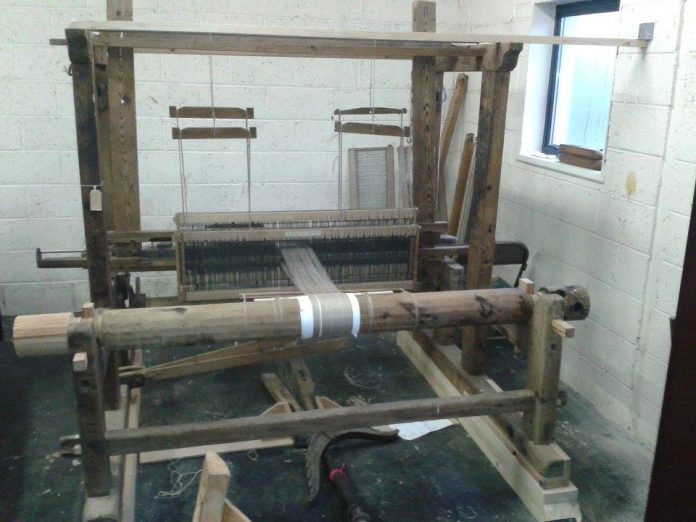 This July, Lough Neagh Discovery Centre will be hosting a very special exhibition and events programme inspired by the once mighty linen industry in the area – complete with a working, 19th century hand loom.
Last year, Armagh City, Banbridge and Craigavon's Museum Services secured £10,000 from the Heritage Lottery Fund (NI) Sharing Heritage Programme for a project called 'The Living Loom' – which literally helped to bring this loom back to life.
A loom from Jack McCollum's factory in Queen Street, Lurgan was donated to the Museum in 1968 and thanks to recent efforts by local experts, the loom was reassembled to working order and put on display.
Since then the loom has been the centrepiece of The Living Loom project which has explored, recorded and promoted the history of local manufacture through apprenticeship weaving courses, historical research, history recordings and schools outreach sessions.
The results of all of this can now be viewed at The Living Loom Exhibition taking place at LNDC from Saturday 22nd July to Sunday 31st July.
To celebrate the opening of the exhibition on Saturday 22nd July, a special day of events will be held. On the day (between 11am and 4pm) you will be able to learn about the history of the local linen industry, meet Lurgan Weaver John McAtasney who is one of the last remaining master damask weavers in Ireland and Weave Technician Kevin Burns who will explain how the loom operates.
There will also be a Victorian factory worker who will talk about the difficult working conditions of the past as well as hands on activities and a chance to try your hand at spinning and weaving.
A number of exciting workshops will also run throughout the week for children. Join renowned storyteller Frances Quinn on Wednesday 26th and Friday 28th July from 10.30am to 11.30am for 'Linen Yarns' when she will tell tales inspired by the characters and events of the local linen industry. This is for children aged six to 10 years old.
On Thursday 27th July an arts workshop called 'Bannermania' aimed at children aged six to 11 years old will run from 11am to 1pm. Inspired by the great Lurgan Weavers Strike of 1912, children will be able to make their own protest banners and placards about an issue that matters to them.
All workshops are free but places are limited so please contact the Museum Services at or 028 3831 1669.