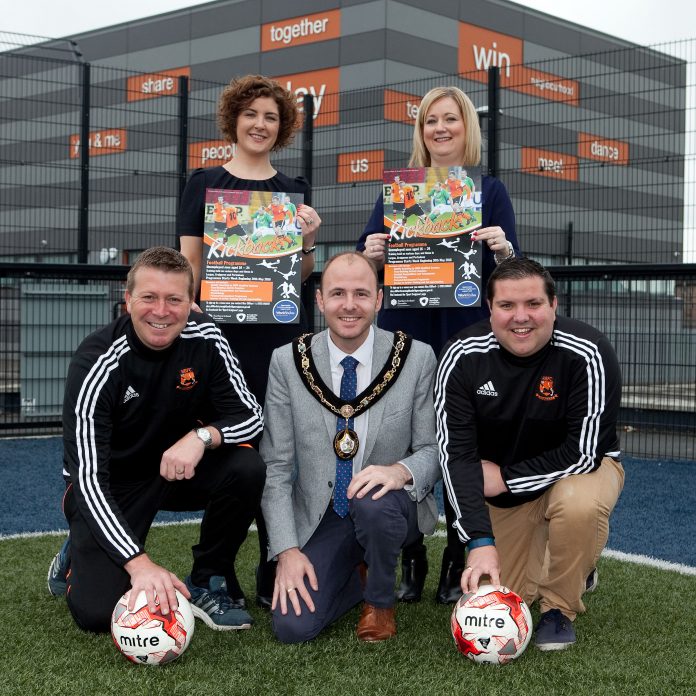 The popular KickBack professional coaching and training programme has been launched in Craigavon, Lurgan and Portadown.
The KickBack programme is aimed at unemployed young men aged 16-24, and uses sport as a tool to guide participants on a personal development journey to help them gain qualifications and employment.
As an indication of the success of this programme, the last time it was run, over 60% of the participants had to leave the programme early as they had moved into full-time education or gained employment.
Lord Mayor of Armagh, Banbridge and Craigavon commented: "This course aims to help improve young men's confidence and develop their team skills. By getting young men involved in community life, this programme demonstrates that they can make a difference to their own community."
Organised by Armagh City, Banbridge and Craigavon Borough Council's Sports Development department in partnership with Work Routes NI and funded by the Department for Communities, the sessions will be delivered by UEFA-qualified ex-professional footballer Pat McGibbon.
A trained physiotherapist with expertise in delivering mental health workshops, Coach Pat McGibbon commented: "I am delighted to be involved in the KickBack programme once again this year. It is important that we encourage anyone who is either unemployed or under-employed to have a focus in their life. While my passion is football, sport in general is a great outlet for anyone, and the KickBack programme is a great platform to encourage this."
The programme runs in various locations in Craigavon, Lurgan and Portadown and participants can join at any stage until December. For more information contact Alex Clifford on 028 3831 1687 or 078 7100 1037.