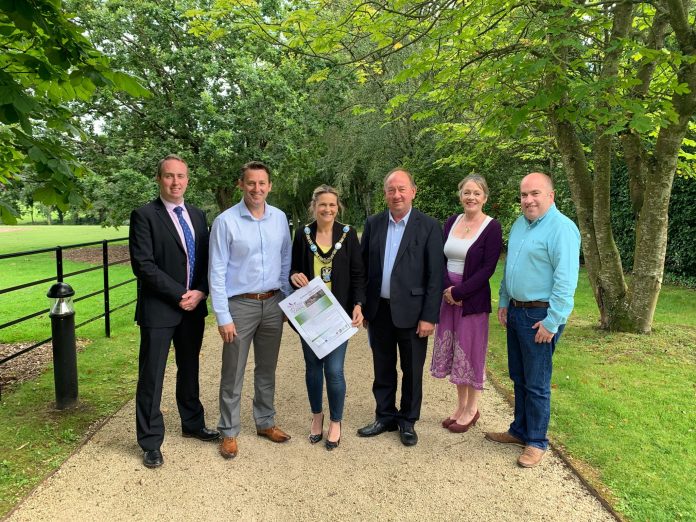 The Ulster Canal Greenway is a proposed network, almost 190km in length, of Greenway routes following the line of the Ulster Canal and other disused railway routes to connect many of the main towns, villages and tourist attractions through the mid-Ulster region.
The Greenway is a work in progress which started off in 2013 with the opening of a 4.2km section through Monaghan town.  Funding is in place for Phase 2, which is due to open in 2021.
In June 2019, Monaghan County Council appointed Doran Consulting to provide a Design Team for Phase 2 of the Ulster Canal Greenway. This project will see the existing Monaghan Town Greenway extended west to Smithborough and east to Middletown, Co. Armagh. A spur of the Greenway is also proposed along the route of the Monaghan Town Bypass. This 22km project will follow the route of the Ulster Canal wherever possible.
Route options have now been developed and public consultation events have been arranged for communities to come along and view the proposed route.  Landowners, local communities and the general public are invited to attend and review the route options and provide their feedback to the project team.  The public consultation events are drop-in sessions between 4pm to 8pm.
Public Consultations
Wednesday 11 September 2019, from 4pm to 8pm
Tyholland Community Sports Complex
Thursday 19 September 2019, from 4pm to 8pm
Middletown Markethouse, Main Street, Middletown
Welcoming the public consultation on the route options, Lord Mayor Mealla Campbell, commented,
"This proposed greenway is a fantastic opportunity to connect local communities and businesses and with Middletown one of the gateways to our borough this has the potential to bring many benefits to the local people and community.  We want to ensure your views are heard by the project team and so I encourage anyone interested in viewing the proposed route options to drop into the public consultation evening on Thursday 19 September between 4pm and 8pm."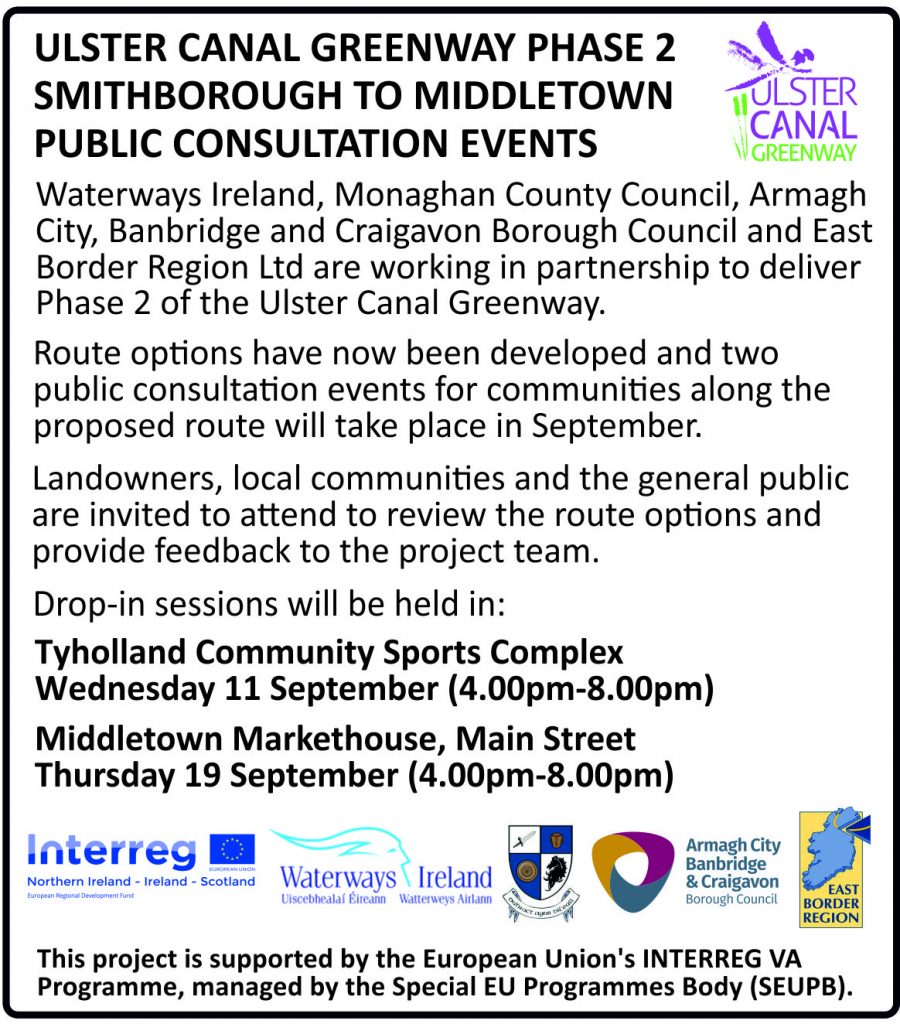 The project is supported by the European Union's INTERREG VA Programme, managed by the Special EU Programmes Body (SEUPB). The Special EU Programmes Body is a North/South Implementation Body sponsored by the Department of Finance and Personnel in Northern Ireland and the Department of Public Expenditure and Reform in Ireland. It is responsible for managing two EU Structural Funds Programmes, PEACE IV and INTERREG VA which are designed to enhance cross-border cooperation, promote reconciliation and create a more peaceful and prosperous society.
Waterways Ireland is the lead partner on this INTERREG VA funded project, which is being delivered in partnership with Monaghan County Council, Armagh City, Banbridge & Craigavon Borough Council and East Border Region Ltd.