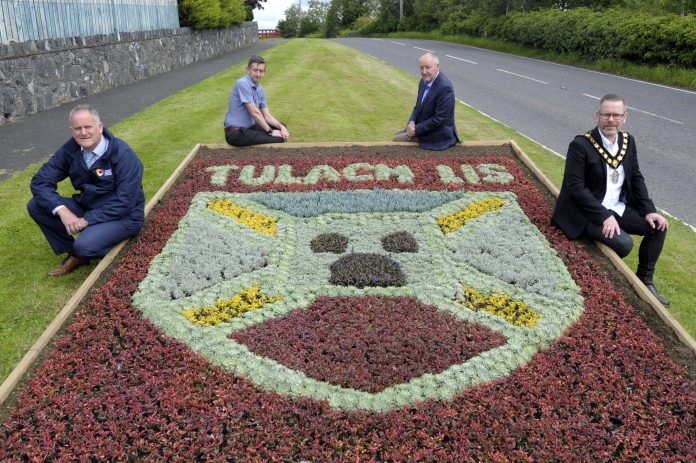 A stunning flowerbed has been planted by Armagh City, Banbridge and Craigavon Borough Council in Laurencetown to celebrate the 75th anniversary of Tullylish GAC.
Having received an application from Tullylish GAC in September 2019 to recognise the milestone anniversary with a specially commissioned floral display, the council approved £1,400 in funding and appointed a specialist company to design, create and grow the flowers.
Parks staff spent several days painstakingly planting the flowerbed and recreating the intricate features of club's crest as the centrepiece. The crest depicts the remains of the ancient church against a backdrop of the club's colours, yellow and blue with the green playing field in the background. Flowers also spell out 'Tulach Lis' meaning 'the hill of the fort' in Irish and 'Celebrating 75 Years'.
A member of Tullylish GAC, Lord Mayor Councillor Kevin Savage was full of praise for council staff who delivered the project to an exceptionally high standard and ensured the finished carpet bedding display accurately depicted the club's crest.
Tullylish GAC Chairman Sean McAnerney attended the official unveiling and thanked the council on behalf of past and present members.
He said: "I would like to thank our local council for planting this beautifully crafted flowerbed marking the 75th anniversary of our club. Over the years Tullylish GAC developed an excellent working relationship with Banbridge District Council and I am confident that that degree of co-operation will be continued and enhanced with the ABC Council. I would also like to say how proud we are in Tullylish to have our colleague and club member Kevin Savage elected as Lord Mayor."
Founded in 1944 and originally named St. Patricks, Tullylish GAC has around 500 members with 16 teams for males and females of all ages. Over the years, the club has garnered an impressive track record of achievements.
The fledgling club won the County Junior Championship in 1947 which was followed in 1949 by additional success in the Junior Championships.
In 1961 the club's name was changed to Tullylish GAC after an amalgamation with Gilford Geraldines. Under a new name, Tullylish played an entire season unbeaten in 1968.
The club's success continued into the next decade. In 1974 it won the Senior "A" League Title after winning the Fr Davis Shield for three consecutive years (1971-73).
More recently, in 2010 the men's senior team won their first Championship in 42 years when they defeated local rivals Annaclone. Similarly, in 2017 the minors won the championship against Annaclone.
1994 marked the year Tullylish formed a ladies team and in a similar fashion early success prevailed with a 1997 League and Junior Championship double win. Such success was repeated in 2010 when Tullylish ladies returned the Junior Championship and League trophies to Tullylish.
The success of Tullylish GAC's players have not been confined to home colours as many of the players have gone on to represent the country in All-Ireland finals with some even attaining medals.