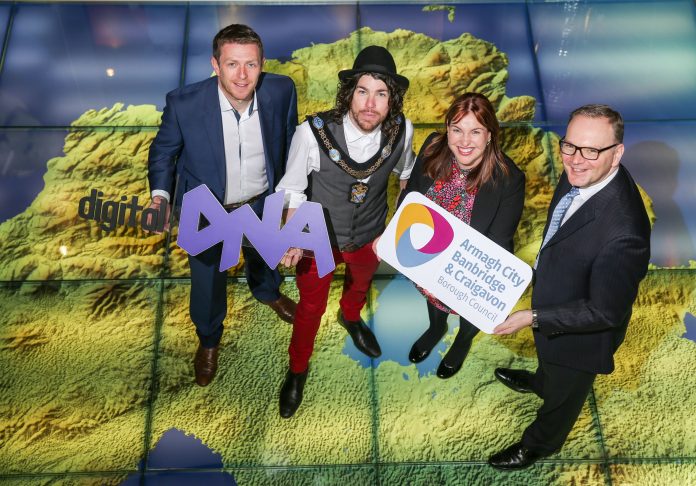 Council has joined forces with Ireland's leading technology event, Digital DNA, to create an exclusive, cutting-edge event to help local businesses and organisations to fully embrace their online potential and compete with the best.
On September 29th, the iconic Armagh Planetarium will become Northern Ireland's biggest creative digital hub as part of a packed tech-focused programme that will drive new thinking and inspire new ideas to help advise, shape and transform new ways of working.
Business owners, managers and entrepreneurs of all ages from across the borough are being encouraged to register early at www.digitaldna.org.uk/planetarium
An enviable line-up of thought leaders from companies such as Google and Deloitte Digital alongside local success stories like Total Hockey and CDE Global will share their experience and the digital and technology-based tools which they have used to transform their businesses to be among the best in the world.
Lord Mayor of Armagh, Banbridge and Craigavon Borough Council, Cllr. Garath Keating, said:
"Specifically designed to inform, to change minds, to drive, explore and create a platform for new ideas, Digital DNA at Armagh Planetarium will analyse and test the digital opportunities available to propel competitive advantage, reach and greater engagement.
"In a rapidly-changing environment, many local businesses are already reaping the rewards of greater digital reach and accelerating their growth using new and emerging technologies. Whether new to the area or already engaged, this authoritative experience should not be missed.
"Growing the local economy is Armagh City, Banbridge and Craigavon Borough Council's top priority and with Digital DNA, we look forward to the new opportunities, advances and outcomes which together we can bring."
Following the outstanding success of a similar event held at St George's Market, Belfast, earlier this year, Digital DNA has been designed to inspire and inform local entrepreneurs and existing businesses of all sizes – and in all sectors – and help them to not only employ the best techniques to drive their organisations forward but be aware, plan and adapt to the challenges posed by the digital era.
Speaking at the launch of the event in Armagh Planetarium, Digital DNA's Managing Director, Gareth Quinn, said:
"Digital DNA has been a key catalyst in advancing Northern Ireland's entire digital landscape and we are delighted to collaborate with Armagh City, Banbridge and Craigavon Borough Council to create this unique event at one of the region's most inspiring venues.
"We have brought together these influential thought leaders and successful companies in this unique setting to provide local businesses and entrepreneurs of every age with a real, practical and relevant understanding of how technology can help to drive growth."
"Tickets will be limited and we expect a huge demand so be sure to check the website www.digitaldna.org.uk/planetarium and register early."