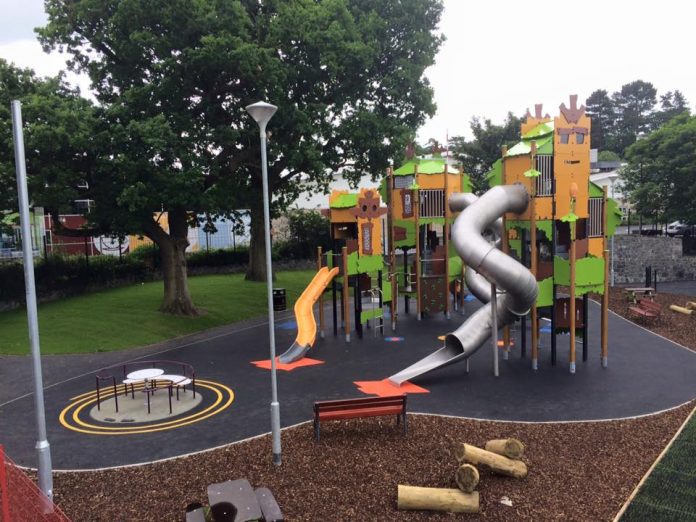 The gates of the fully refurbished Solitude Play Park, Banbridge swung open on Thursday 7 July for the official launch of the eagerly awaited state-of-the-art play facility.
Speaking at the event Deputy Lord Mayor of Armagh City, Banbridge and Craigavon, Councillor Paul Greenfield, commented, "It's a real pleasure to see the completed park. The refurbishment of the play park at a cost of £300,000 is a major investment for the borough and will offer the local community and the many visitors that the area attracts each year the opportunity to enjoy the play equipment on offer.
The new facility will allow young people to chance to enjoy all the benefits of play in imaginative and rewarding ways.  Play is an essential part of any child's life; it's vital for the development of their social, emotional and physical skills and this new facility enables this to happen.  It will provide a safe, fun and stimulating environment which will hugely benefit the children in many ways. I encourage everyone to come along and enjoy this excellent new feature".
The park offers a host of play equipment suitable for children up to 12 years. Along with traditional equipment including swings, see-saws, slides and roundabouts, exciting new additions include a ground level trampoline, basket swings, rope rotator, cable way, rope snake team swing and the parks crowning glory, a colossal double tower net climber.
Toddlers and younger children have their own section complete with play house, play panel, mini basket swing, rope pyramid and play train.
The equipment is nestled in a beautifully landscaped setting complete with seating so parents and careers can have a well earn rest while the children can have fun in safe and secure surroundings.
The refurbished play park is just one of a number of developments Solitude Park has undergone over recent years.
Since 2009 the Council has implemented a phased improvement programme at the park which is situated in the heart of Banbridge Town Centre. The first phase totalling £1.8m included the creation of new pathways, a new toilet block, fencing along the river and the introduction of interpretation signage at key locations throughout the park.
Phase two was successfully completed in 2013 with the introduction of a new open air gym. Funding secured from the Public Health Agency enabled the Council to install ten pieces of low impact, resistance based equipment. The open air gym is suitable for people of all abilities and is free of charge.
The current completed phase of work which resulted in the total refurbishment of the play facility was undertaken by the Crawford Group and commenced in January 2016.
The next exciting phase of the project is the development of a new outdoor skate park plus upgrades to the amenity lighting and CCTV system. It is anticipated work on this phase will commence in 2017.