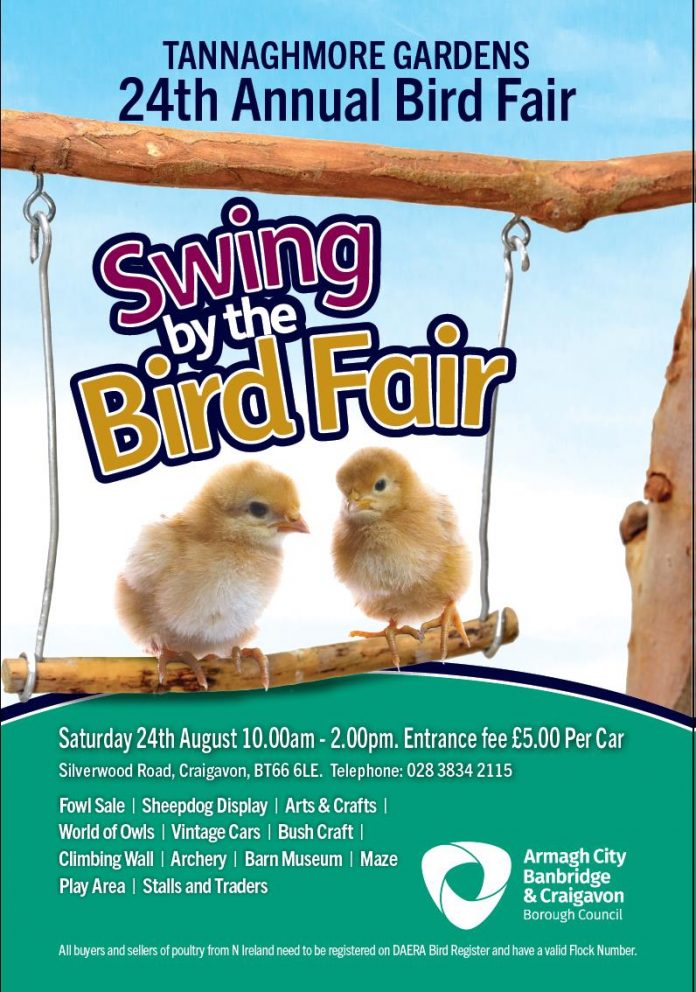 'Waddle' on down to Tannaghmore Gardens and Animal Farm and have a 'quacking' day out with all your family and friends at the annual fun-filled Bird Fair this Saturday 24th August!
Thousands flock to this fun-filled event every year to see the fantastic variety of thrilling birds and gorgeous animals on show – from Polish hens and fawn Indian Runner ducks to fluffy Russian Sebastopol geese and guinea fowl you'll be wowed by the selection of birds on display.
Taking place from 8am-2pm, other exciting activities on the day will include the ever-popular Sheep Dog Display where you can watch these super smart dogs rounding up sheep and completing an obstacle course!
You can also check out the climbing wall, wood turning, blacksmiths, weaving and trade stalls selling some fantastic goodies to take home.
Stroll around the arts and crafts fair in the pavilion whilst being entertained by The Armagh Rhymers. Meet Mike and his owls from World of Owls and take a step back in time and view the cars on display from Downe Vintage Car Club.
You will also find Curragh ancient boat making, artist workshops, tea room and lots of conservation information.
In addition, all animal lovers out there can check out the fabulous piglets, kids, goats, lambs, cows, donkeys, ponies and rare breeds at the renowned Rare Breeds Animal Farm or enjoy a puzzling afternoon getting lost in the maze!
The cost is just £5 per car.
For further information contact Tannaghmore Garden and Animal Farm on 028 3834 3244