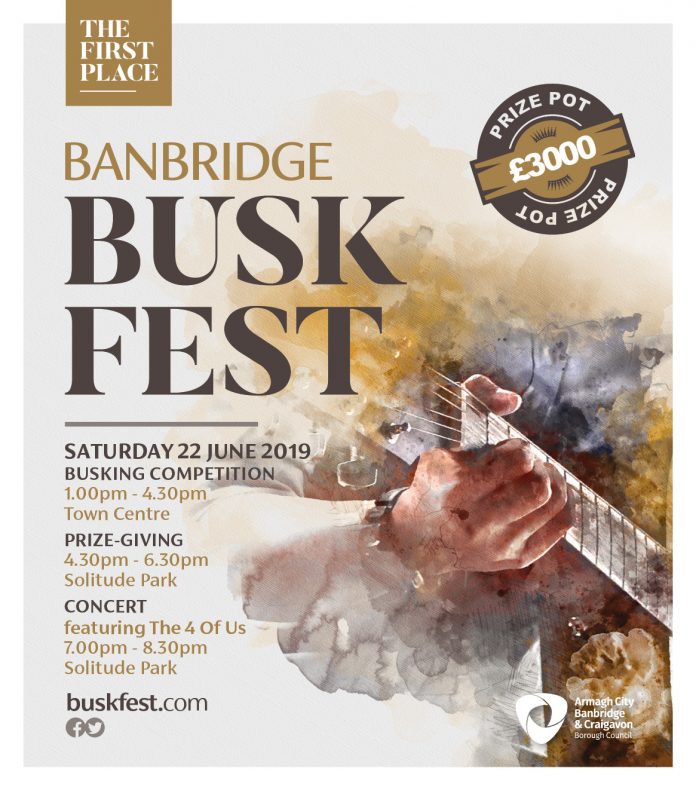 Calling all buskers you still have time to sign up for Banbridge BuskFest, the biggest and best busking competition around. and be in with a chance of winning a share of the massive £3000 prize pot!
The streets of Banbridge town centre will be alive with the sound of music on Saturday 22 June as BuskFest returns for a 16th year showcasing the best in bands, individual performers, singers, musicians and much, much more.
Online registration will be open at www.buskfest.com until Friday 21 June however last minute entries can register on the day at The Old Town Hall, Banbridge, from 9am – 11.30am with pitches offered on a first come first served basis.
Competitors will battle it out from 1pm – 4.30pm before the winners are announced for Best Individual, Best Band, Best Junior, Best Performance, sponsored by Banbridge Chamber of Commerce and Spirit of BuskFest sponsored by The Boulevard, Banbridge', from the BuskFest stage in Solitude Park.
Following the judging BBC Radio presenter and BuskFest master of ceremonies Ralph McLean will announce the winners at the Solitude Park stage before internationally acclaimed band, The 4 Of Us take us on a musical journey throughout their illustrious career in what is sure to be an evening to remember.