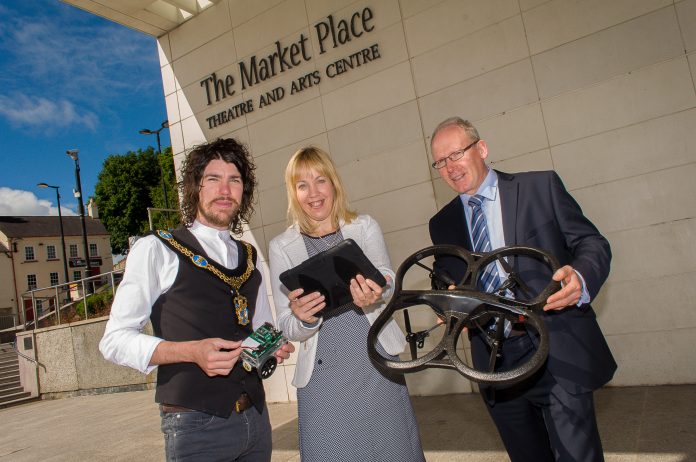 The STEM Futures programme is coming to the Market Place Theatre and Arts Centre, Armagh this summer.
Young people aged 10 to 13 will learn computer programming, problem solving and team work in a fun environment using practical skills. Through the theme of space exploration, the students will get to experience the excitement of science and technology in a real world context.
The innovative and exciting STEM Futures programme will be delivered by Armagh City, Banbridge and Craigavon Borough Council in partnership with Sentinus, a not-for-profit educational charity. The organisation works with schools and colleges throughout Northern Ireland to promote engagement in Science, Technology, Engineering and Mathematics (STEM), and support the development of young people by enhancing their essential life skills.
The week-long programme of activities will focus on the following areas:
Day 1 – Structures in Space
Day 2 – Lunar Robotics
Day 3 – Motors and Flying Machines
Day 4 – App Development Day
Day 5 – Renewable Energy
Speaking at the launch, Lord Mayor Garath Keating said, "This is the first time the innovative STEM Summer School will be delivered in the borough, and it is a fantastic opportunity for our young people to experience the STEM subjects in a real world setting, which will enrich and support their existing learning."
Bill Connor, CEO of Sentinus commented, "We are delighted to be working in partnership with Armagh City, Banbridge and Craigavon Borough Council to offer and promote this opportunity to encourage innovation and creativity and promote problem solving skills in a fun way."
The Summer School will take place at The Market Place Theatre and Arts Centre, Armagh from Monday 15 until Friday 19 August 2016 from 9.30am-4.30pm. Children can be supervised from 8.30am until 5.00pm. The programme costs £95.00 per child for the full week.
To book a place or to find out more, visit www.sentinus.co.uk.