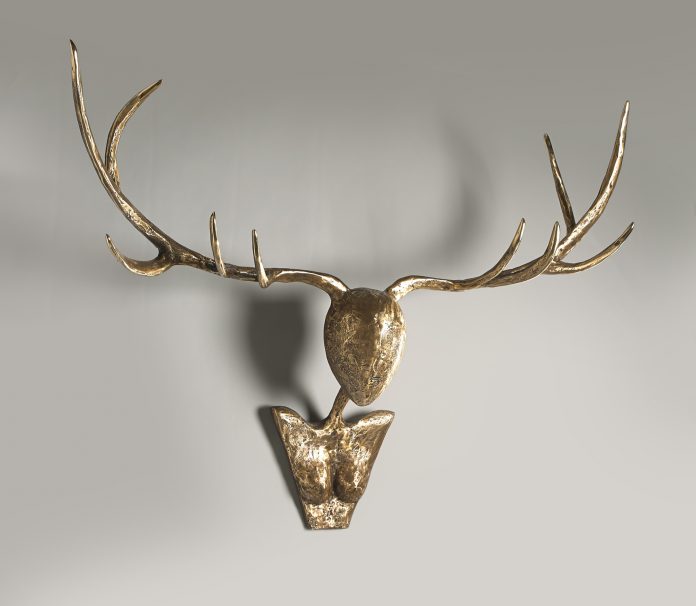 The F.E. McWilliam Gallery and Armagh City, Banbridge and Craigavon Borough Council are delighted to present Steel Stone Bronze, an exhibition of sculpture by Orla de Brí, Anna Campbell and Eileen MacDonagh.
On display in the the beautiful surroundings of the F.E. McWilliam Sculpture Garden throughout the summer months the work of these three Irish artists utilises the traditional sculptural materials of steel, stone and bronze to great effect.
Exhibited alongside F.E. McWilliam's iconic bronze sculptures Legs Static and Homer, the works on show include Anna Campbell's bird sculptures Hybrid and I Spy; Eileen MacDonagh's Star in Indian Granite and Orla de Brí's Lone She Stag and Trophy. Both de Brí and Campbell will be familiar to visitors who saw last year's Open 18 Sculpture exhibition at the gallery while this is the first time that MacDonagh has exhibited in Banbridge.
Orla de Brí is based in Co. Meath and creates predominately figurative sculptures in bronze, steel and fiberglass. She produces both gallery and public art and has work in numerous public and private collections. In recent years she has been commissioned to produce large scale works for the Sabanci Collection, Istanbul and the University of Limerick and has just completed a large figure and 24ct gold leafed tree for the roof of Belvelly Castle, Great Island, Cobh, Co. Cork.
Anna Campbell was born in Newry and lives locally. She studied sculpture at the Crawford College of Art in Cork and worked at Pangolin Editions, Gloucester where she had the opportunity to work on bronze pieces by notable sculptors such as Lynn Chadwick. Her own bronze sculptures, featuring figures or animals, are characterised by their elegant modelling and highly distinctive and unique patination. She has exhibited throughout Ireland and England at exhibitions including the RHA, RUA, Mullan Gallery Belfast and Jorgensen Gallery Dublin.
Eileen MacDonagh was born in Co. Sligo and works mainly in stone, often producing large scale sculptures for public art commissions. She has investigated the colour, texture and density of granite and limestone and has long been inspired by the way in which geometric rules govern the universe.  Her work has featured in many exhibitions, both in Ireland and abroad and is included in numerous public and private collections.
The exhibition continues until 28 September 2019 and all of the works are for sale. Admission is Free. For further information contact FE McWilliam Gallery on T: 028 4062 3322, E: or visit the website at www.femcwilliam.com