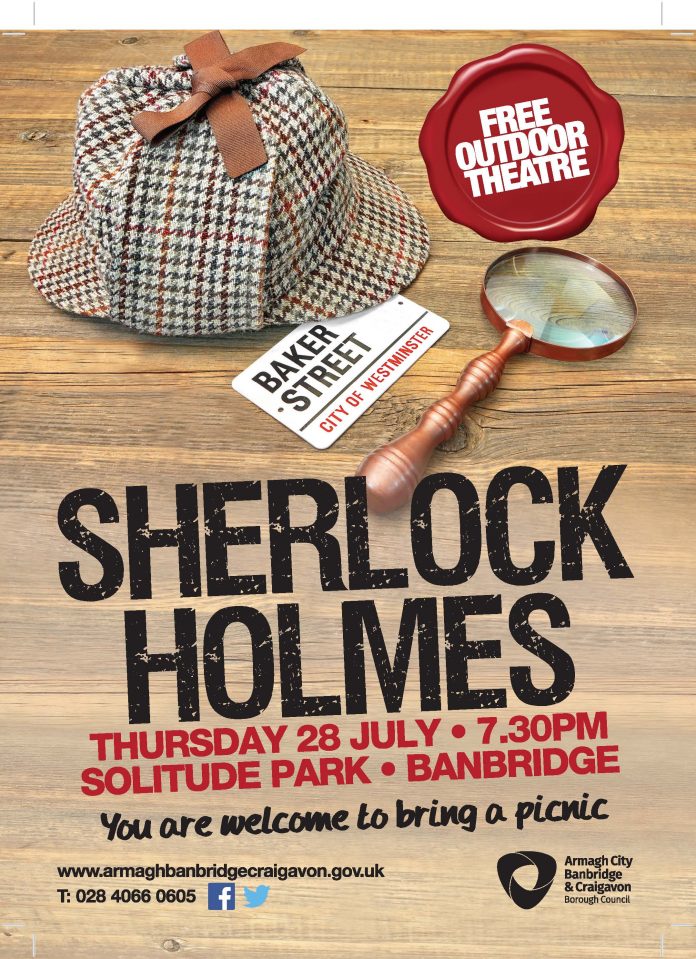 The world's greatest detective, Sherlock Holmes, accompanied by his dear friend Dr. Watson, will wow you with his fabulous powers of observation and logical reasoning when he descends on Solitude Park, Banbridge on Thursday 28 July 2016 at 7.30pm to solve the mystery of why a phantom beast is stalking the Baskerville estate.
This thrilling performance by Chapterhouse Theatre Company of Sir Arthur Conan Doyle's best known crime novel, The Hound of the Baskervilles, will have you gripped as the story unravels to reveal if Sir Charles Baskerville has indeed been killed by a ghostly hound believed to haunt his family because of an age-old curse.
Holmes and Watson are introduced to the case by Dr. Mortimer, a friend of Sir Charles Baskerville, who found a paw print near Sir Charles's corpse. He is worried that there may be some truth to the superstitious legend, which is detailed in an old manuscript, and thus approaches Holmes in the hope that the detective can protect Sir Henry, who is soon to arrive to claim the family estate and fortune.
Will Holmes and Watson solve the case before Sir Henry suffers the same fate as Sir Charles or will the phantom beast, which roams the mist-enshrouded moors around the isolated Baskerville Hall on Dartmoor, claim the life of another member of the Baskerville family?
Families are welcome to come along to this free outdoor performance and enjoy an unforgettable evening of mystery, suspense and theatre.