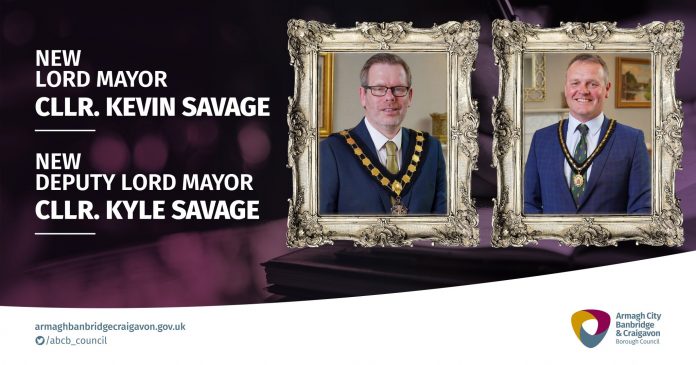 SF Councillor Kevin Savage has been elected Lord Mayor and UUP Councillor Kyle Savage Deputy Lord Mayor at the remote Annual Meeting of Armagh City, Banbridge and Craigavon Borough Council held on 1 June 2020.
Councillor Kevin Savage's new appointment is significant in that he is the first elected representative from the Banbridge DEA to hold the highest office since Northern Ireland's second largest council was established on 1 April 2015.
The married father-of-three from Lawrencetown, who served as Vice-Chair of the council's Economic Development and Regeneration Committee in 2019/20, is a civil servant with over 20 years' service working for the Department for Communities.
Apart from sharing the same surname, the newly appointed Lord Mayor and Deputy Lord Mayor are similar in that they were both co-opted onto council.
Councillor Kevin Savage first became an elected representative in April 2016 when former councillor and SF party member Brendan Curran stepped down. He entered local government because politics has always been his passion since he graduated from QUB with a degree in Modern History and Politics in 1996.
Donaghcloney farmer Councillor Kyle Savage, who is also married with three children, was elected in 2019 to represent the Lagan River DEA on Armagh City, Banbridge and Craigavon Borough Council.
Prior to this, he was co-opted onto Craigavon Borough Council in November 2014 when his father George Savage, a former Upper Bann MLA and thrice-serving Mayor of Craigavon, passed away. His mother Joy Savage, who served as a Craigavon councillor, also donned mayoral chains in 1993/94.
In his first official address, the Lord Mayor thanked his SF party colleagues for entrusting him with the senior civic role and his family for their unstinting support during what will be an extremely busy year ahead.
He vowed to embrace his new role albeit in a much different way so that he can support local businesses and communities as they navigate their way through and recover from the most serious health crisis of this generation.
Speaking at the meeting, Councillor Kevin Savage expressed his heartfelt sympathy to the families of over 50 residents in the borough who had succumbed to coronavirus and to those who had been deeply affected by it before going on to say:
"The ongoing coronavirus pandemic will define the coming council year in terms of how we deal with and respond to it. We know there is much anxiety out there and we want to be at the forefront of the civic response in giving reassurance, restoring confidence and aiding recovery.
As councillors we are facing possibly the most difficult and challenging year of our political careers. As we move from the response to recovery phase, there will be many important issues we will have to address…namely supporting economic recovery and rebuilding our communities – both of which have suffered greatly over the last three months.
I know that we will work together in a spirit of co-operation to ensure that all people in the borough benefit from our recovery plans.
 One of the first things I would like to do as Lord Mayor is to officially recognise all those workers on the frontline in the fight against Covid-19: health workers; retail staff; farmers; transport workers and indeed our own Council staff. 
My immediate priority during this year will be to highlight the positive role of community groups, sporting organisations, cultural groups and faith groups who have played a major role in supporting our community through this crisis.
I would like to continue the good work already undertaken by the outgoing Lord Mayor who has helped attract investment and grow the local economy.
This pandemic and the measures introduced to control it will no doubt have a negative effect on the physical and mental health of our residents. I hope to play a leading role in ensuring that this council is there to assist our citizens' return to health."    
He also paid tribute to the outgoing Lord Mayor Councillor Mealla Campbell and Deputy Lord Mayor Councillor Margaret Tinsley for their commendable service to the people of the borough during their tenure.
Macmillan Cancer Support will be his chosen charity for his term in office as he wishes to repay the kindness of their wonderful nurses who supported his family and mother before she lost her battle with cancer some 22 years ago.
The new Deputy Lord Mayor, who comes from a strong farming background, said he is firmly focused on "listening and responding to the needs of people" in the midst of the crisis.
In a break from traditional proceedings due to social distancing restrictions, this year's Annual Meeting was a very different affair with no large gathering of councillors in the Council Chamber, no formal handover of the chains of office and no congratulatory hand-shaking.