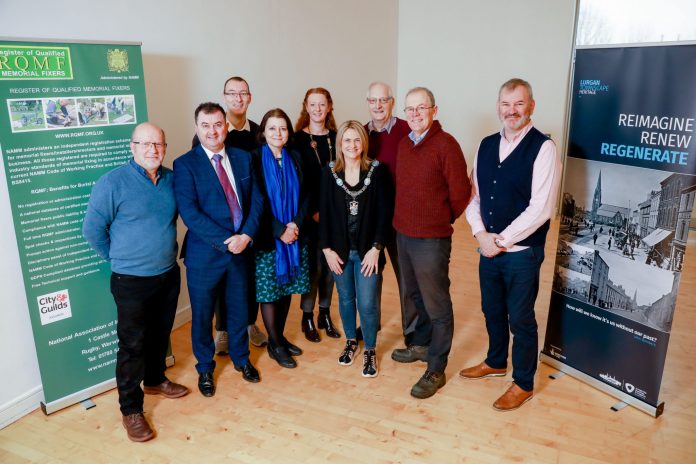 Ensuring the protection and preservation of historic burial grounds across Northern Ireland was at the heart of a recent seminar organised by Armagh City, Banbridge and Craigavon Borough Council.
Designed as resting places for our departed, burial grounds offer a place for remembrance and reflection; however, they also represent areas of significant historical value. With striking architecture, unique landscape and fascinating inscriptions they are important sites that can help us understand our past and help us build a picture of the lives our ancestors lived.
Highlighting the important historical merit while addressing the need for preservation, the Management and Maintenance of Historic Burial Grounds seminar saw guest speakers from across the UK and Ireland provide an insight into the latest advice and thinking regarding the management and maintenance of historic burial grounds.
Attending the seminar Lord Mayor of Armagh City, Banbridge and Craigavon, Councillor Mealla Campbell commented:
"As a council, we are committed to protecting our rich and varied built heritage, which is why it is important to see this seminar focus on the preservation of our historic burial grounds. These sites are important places for many of us offering a space for quiet reflection but they also provide us with a fascinating glimpse into our past. With the monuments, inscriptions and landscape design, they help shed light on past customs and the social history of the area."
Held at the Seagoe Parish Centre in Portadown, the event brought together over 50 representatives from local government, statutory agencies, community groups and educational institutions.
The Management and Maintenance of Historic Burial Grounds seminar was organised by the Lurgan Townscape Heritage Scheme and funded by the Department for Communities. A second seminar entitled 'Promoting Our Historic Burial Grounds' will be held on Friday 24 April. For further information, please contact the Lurgan Townscape Heritage Scheme on 028 3831 2545 or 028 3831 3604.