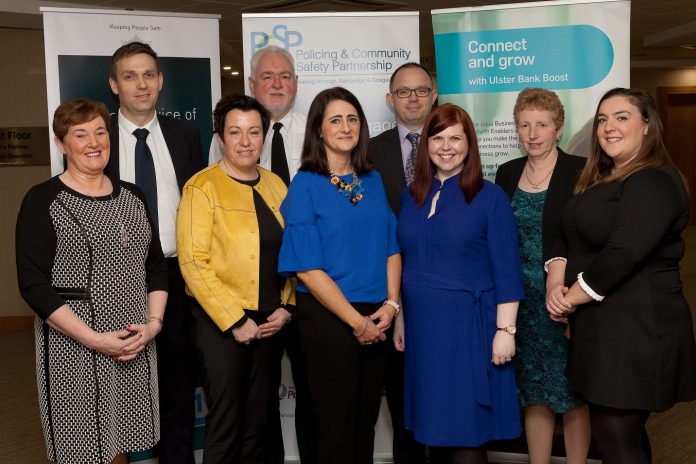 Over 70 local businesses gathered at Craigavon Civic and Conference Centre this month to learn how to keep their business safe online, spot fraud and bank safely.
Organised by Ulster Bank Boost in partnership with Armagh, Banbridge and Craigavon Policing and Community Safety Partnership (PCSP), RBS security expert Maggie Hunter and the PSNI, the 'Safeguarding Your Business' event was the first #UlsterBankBoost event of 2018.
Of a timely nature, the event also drew attention to the approaching General Data Protection Regulations (GDPR) deadline on 25 May 2018. Orlagh Kelly, a local barrister, owner of 'Briefed' and GDPR expert, highlighted some of the key factors to consider when holding customer data in order to keep compliant and avoid fines.
"Ensuring we operate safely and effectively online is a vital part of modern business – with knowledge experts on hand to share guidance and advice, today's event has provided the perfect platform for local businesses to gain the necessary skills and knowledge to ensure they safeguard their business online", commented Chair of Armagh City, Banbridge and Craigavon PCSP, Councillor Máire Cairns.
Cara Taylor, Business Growth Enabler with Ulster Bank commented,
"I'm delighted to have been involved in today's event. As part of Ulster Bank Boost we strive to support local businesses with more than just their banking needs. Cyber security and GDPR are two very timely topics and I think there were some really strong, practical messages delivered by today's speakers on how to keep your business safe, secure and compliant."
Chief Inspector Barney O'Connor, PSNI commented,
"This was a hugely successful event and I thank those partners who organised and took part in it. It will have gone a long way towards keeping our business community and the data they necessarily retain safe."
'Safeguarding Your Business' is part of a series of free local business events organised by Ulster Bank Boost to provide local businesses with the tools, knowledge and networks to grow.
Learn more about this initiative by contacting Cara Taylor on , 07879677553 or tweet @carataylorbge.
You can also find Ulster Bank online here: www.ulsterbank.co.uk/boost.