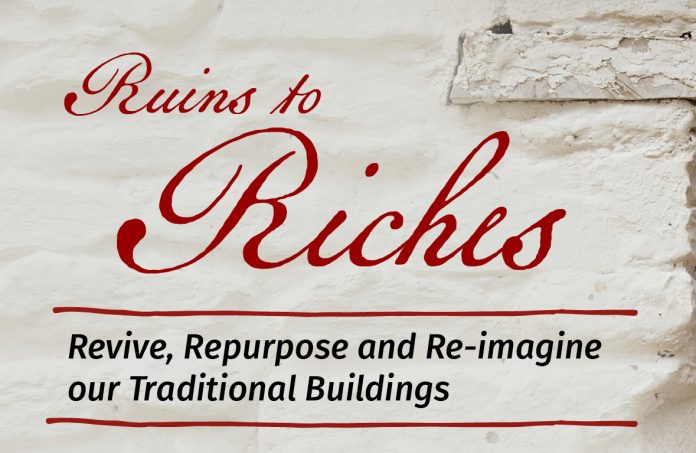 Armagh City Banbridge Craigavon Borough Council and Historic Environment Division [HED] of the Department for Communities jointly extend an invitation to 'Ruins to Riches', a programme of free seminars to be held in the Armagh area.
Assisted by Ulster Architectural Heritage, the aim of the seminars is to inspire owners and interested groups to look at potential new uses for rural vernacular buildings; get practical guidance on maintenance; hear from funders and discover ways to generate an income from forgotten buildings.
The first seminar takes place on Tuesday 24 March in Hayloft, Palace Stables Armagh, and will include specialist speakers who have restored old buildings, information from Planners, funding and guidance information and a trip to a cottage which has been restored within the Borough.
Ciara MacNeice, Armagh City Townscape Heritage Education Activities Officer outlines the aims of the project; 'The council is delighted to partner with HED on this important initiative to help find solutions for the reuse and rehabilitation of these often overlooked buildings which make the area distinctive and special'.
This follows the highly successful Lough Neagh Landscape Partnership with Ulster Architectural Heritage "It was Someone's Home" vernacular conference in September 2019' which was also supported by HED.
We are inviting owners and custodians of traditional buildings to the event. We would also like to offer our sincere thanks to the Historic Environment Division team in for supporting this through the Historic Environment Fund'.
In addition, there will be three further evening workshops where individuals can speak on a one to one basis with funders, explore reuse and adaptation options and explore how to make a sustainable business model from an old dwelling.  The project will also include visits to a number of local restored sites. The programme will end in early May with a half day practical maintenance session.
If you are interested in attending, please email .
The Project is a collaboration between Armagh City, Banbridge and Craigavon Borough Council, Dept of Communities Historic Environment Division and Ulster Architectural Heritage.