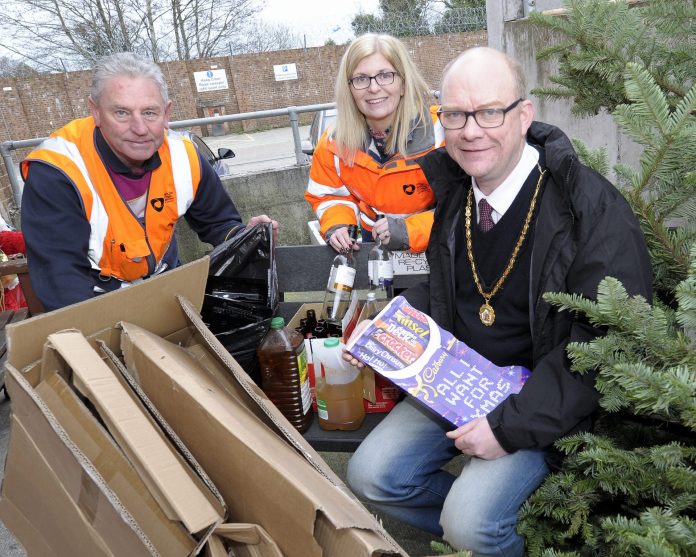 With the festive period drawing to a close, the season of giving has inevitably added to our household bins, seeing 'waste-lines' bulge.
It is estimated that an extra 30% of waste is produced during the festive season in comparison to the rest of the year, but a lot of this waste can be rescued from the landfill and recycled!
There are certainly a lot more opportunities for recycling, but having said that it can be difficult to know how to deal with all this additional waste, which is why Armagh City, Banbridge and Craigavon Borough Council (ABC Council) is offering residents information and guidance on how to maximise their recycling potential over the holiday period with these top tips.
Used wrapping paper and cardboard packaging can be recycled in the green bin/recycling box,
Food waste can be recycled in the brown bin/food caddy,
Excess waste can be brought to a local recycling centre, including real Christmas trees for composting,
Separate waste into recyclable and non-recyclable items before visiting a recycling centre,
Remember to remove all polystyrene from cardboard boxes before recycling to prevent contamination,
Remember foil paper and paper with glitter cannot be recycled in the paper containers.
"There is inevitably a lot of waste created during the festive period but there are lots of ways in which we can do our bit for the environment, while at the same time enjoying ourselves. As the majority of this waste can be recycled, residents can bring their excess waste to a local recycling centre and by separating cardboard, plastic packaging, glass bottles and jars before you go, your visit will be made a lot easier" commented Deputy Lord Mayor of Armagh City, Banbridge, Craigavon, Councillor Paul Duffy
The borough of Armagh City, Banbridge and Craigavon has nine recycling centres, listed below,
Armagh – Station Road Industrial Estate, Station Road, Armagh, BT61 7NP
Keady – Unit 17, Keady Business Centre, Annvale Road, Keady, BT60 2RP
Markethill – Unit 5, Markethill Business Centre, Fairgreen, Markethill, BT60 1PW
Tandragee – Madden Road, Tandragee, BT62 2DG
Banbridge – Scarva Road, Banbridge, BT32 3QD
Dromore – Mossvale Road, Dromore, BT25 1DG
Rathfriland – Iveagh Park Road, Rathfriland, BT34 5DZ
Portadown – Fairgreen Recycling Centre, Duke Street, Portadown, BT62 3EX
Lurgan – New Line Recycling Centre, Tandragee Road, Lurgan, BT66 8TA
Download our free Bin-Ovation app to find out what you can bring to the recycling centres, opening times and details on bin collections over the holiday period.
For further information, call Environmental Services on 0300 0300 900.