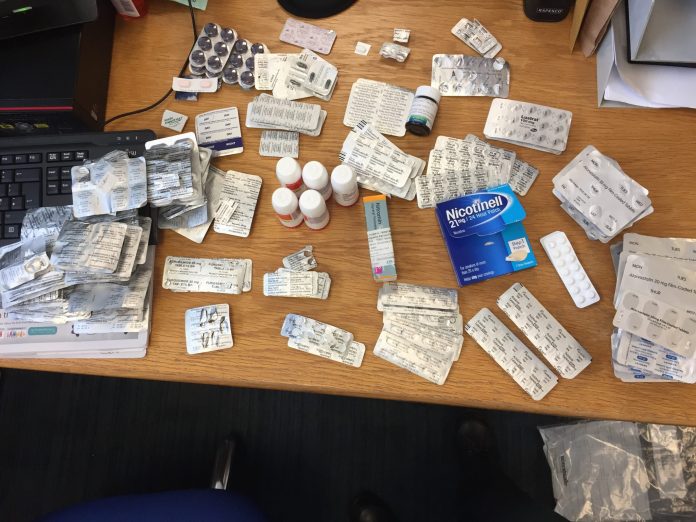 An initiative to help dispose of unwanted or unused drugs, whether prescribed or illegal, is taking place throughout the borough.
RAPID (Remove All Prescription and Illegal Drugs) is an initiative that promotes and facilitates the removal of all types of prescription and illegal drugs from the local community and provides disposal bins in various places across the council area.
Armagh, Banbridge and Craigavon Policing and Community Safety Partnership (PCSP) and the PSNI have been working closely with the Public Health Agency (PHA) and the local Drug and Alcohol Coordination Team (DACT) to achieve the three aims of RAPID:
The removal of prescription, illegal and new psychoactive substances. Provision of information and support to individuals, families, local businesses and community organisations to raise awareness of the effects and risks of using/misusing illegal and/or prescription drugs. Bringing together community and statutory agencies, local businesses and the general public under the RAPID initiative to work towards making their local community a safer place to live.
The RAPID bins, which are bright yellow, are currently situated at: Portadown Health Centre, Future Proof Banbridge, Tesco Craigavon, Tesco Lurgan, Sainsbury's Armagh and the Tommy Makem Arts and Community Centre in Keady.
"The RAPID initiative provides a safe way for anyone to dispose of drugs, whether they are prescribed or illegal, and to do so discreetly and anonymously," commented PCSP Chair Councillor Paul Duffy.
"Most of the drugs disposed so far have been prescription medications. We are concerned that prescription drugs can be sold on and used recreationally, often mixed with other drugs or alcohol which is very dangerous. Drug misuse, involving both illegal and prescription drugs, is sadly a common issue and has the potential to cause suffering and tragedy to individuals, families and communities.
"This initiative provides a real opportunity to reduce the availability of drugs and medicines that have the potential to be misused.  So, should you have, or come across unwanted or unused drugs, tablets or medicines, we would encourage you to deposit them in a RAPID Bin safely – to keep your family and your community safe."
Some of the most common drugs disposed of in the RAPID bins are Diazepam, Citalopram, Gabapentin, Quetiapine, Mirtazapine, Pregabalin, Tramadol, Naproxen, Co-Codamol, Amitriptyline, Paroxetine, Kapake, Fluoxetine and Codeine.
For more information on RAPID please visit drugsandalcoholni.info/rapid or contact Armagh, Banbridge and Craigavon Policing and Community Safety Partnership on 0300 030 0900.