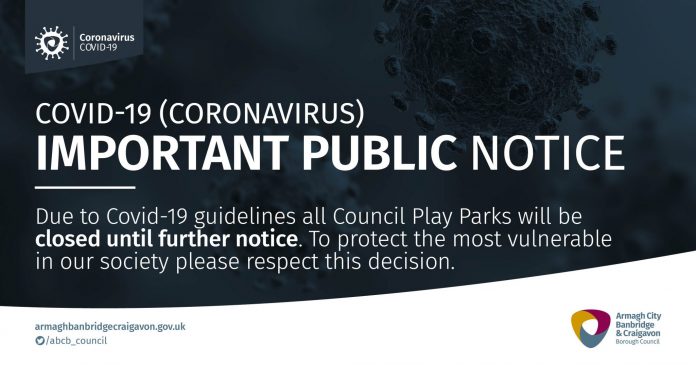 Full network of children's play parks will close until further notice while public parks will remain open.
Armagh City, Banbridge and Craigavon Borough Council has agreed to close its network of children's play parks across the borough in line with the latest guidance issued by the Public Health Agency.
Until now, the advice was to keep the play parks open while a wide range of other council facilities including leisure, sports and recreation centres, community centres, tourism, arts and culture facilities and town halls were closed earlier this week.
However, in light of the recent schools' closure announcement, it is essential to keep children away from communal play parks where there is an increased risk of them being exposed to coronavirus.
Enclosed play parks will be locked and signage will be placed at all facilities advising the public to desist from using play equipment in the interest of protecting the most vulnerable in our society.
Given the importance of promoting the public's health and wellbeing, public parks, forest parks, riverside walks and outdoor trails will remain open so that visitors can continue to take regular exercise and remain physically active.
Entrance fees have been waived at Gosford Forest Park and Loughgall Country Park to encourage people to still take regular exercise in safe, open environments.
For the latest advice on council facility closures and service changes, call 0300 0300 900 or visit www.armaghbanbridgecraigavon.gov.uk/coronavirus