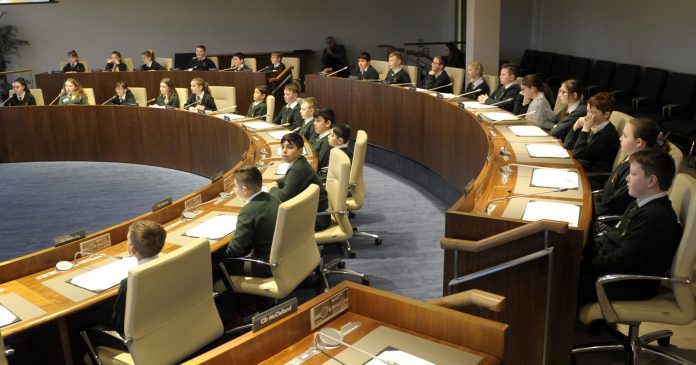 Two local primary schools recently took part in a four-month project exploring Lurgan's history, from its foundation in 1610 until the present day, and then enjoyed a special event to mark the success of their work!
Primary seven classes from Carrick Model Primary School and Lurgan Model Primary School participated in the 'Know Your Place' project, which was organised through the Lurgan Townscape Heritage Scheme and funded by Armagh City, Banbridge and Craigavon Borough Council and National Lottery Heritage Fund.
The Lurgan Townscape Heritage Project is a regeneration scheme which aims to repair, preserve and restore up to 25 historic buildings within Lurgan town centre.
Pupils began the project by spending time in the classroom studying maps and photographs to examine how Lurgan has changed over time. They then investigated what remains of historic Lurgan through tours of Shankill graveyard (Lurgan's most historic site) by local history enthusiast Jim Conway and a town tour facilitated by David Martin of Brownlow House.
After considering Lurgan's past, the classes were then challenged to think about Lurgan's future and what changes they would make to the town if they were in charge. After much discussion, the pupils were then able to bring their ideas to life in model-making sessions facilitated by artist Hazel Boland.
To mark the end of the project, the classes were invited to Craigavon Civic Centre to meet the Lord Mayor Councillor Mealla Campbell, who provided a tour of the Council chamber and provided an insight into the work and role of the Council and how decisions made there affect everyday life.
The decision makers of the future were then given the opportunity to question the Lord Mayor and the Lurgan Townscape Heritage Partnership about their future plans for Lurgan.
"I thoroughly enjoyed my morning spent with pupils from both Carrick Model and Lurgan Model Primary Schools and discussing the 'Know Your Place' project," commented the Lord Mayor, Councillor Mealla Campbell.
"It is always a breath of fresh air to talk with the young people of our borough, to hear what they have been learning, to listen to their thoughts on the future and to answer any questions they may have. This project provided a unique opportunity for local schools to learn how Lurgan's history has shaped how the town looks today, while also providing a platform for pupils to suggest how they think the town could be improved going forward."
David Weir, Education and Activities Officer of the Lurgan Townscape Heritage Scheme who facilitated the project added,
"As well as restoring historic buildings, a key aim of the Lurgan Townscape Heritage scheme is to increase appreciation, awareness and understanding of Lurgan's history and heritage through educational and training initiatives. The 'Know Your Place' primary school programme is central to these aims and we look forward to rolling this out to more schools across Lurgan over the future months".
Jim McGreevy, Member of NI Committee of The National Lottery Heritage Fund added,
"The strength of our Townscape funding has always been the mixture of restoring the historic buildings but also restoring people's connection to the buildings and restoring their sense of place. The uniqueness and importance of our towns is not just about their architecture, it is also about their stories, cultures, memories and their futures. This 'Know your Place' project is a lovely example of how people young and old can reconnect with their place and think about how the past can inspire the future. It is thanks to National Lottery players that we can support projects such as this one." 
For further information on the Lurgan Townscape Heritage Scheme please contact Tony Morgan, Project Manager: or David Weir, Education and Activities Officer: .