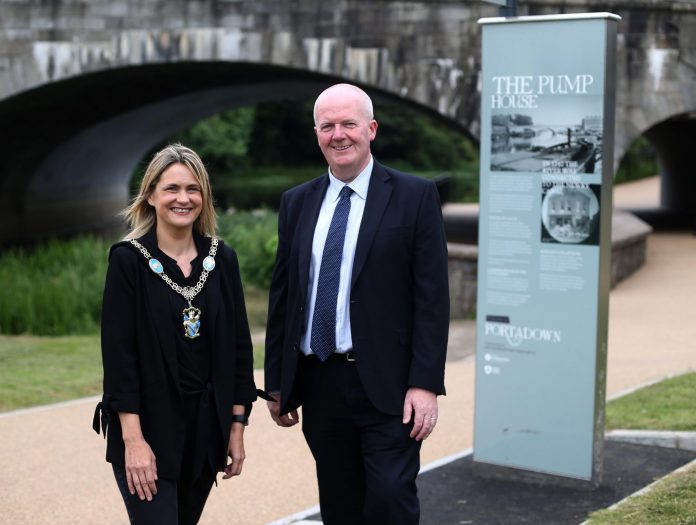 Armagh City, Banbridge and Craigavon Borough Council completes phase one of £270,000 Portadown Riversides Revitalisation project between the Old Town Quay and Portadown Pump House.
A significant milestone was marked this week with the completion of the first phase of the Portadown Riversides Revitalisation project following £270,000 investment.
Following the completion of a number of major developments including Portadown Public Realm and Linkages schemes and the recent regeneration of the Pump House which is now operated by Ground Coffee. Portadown Riversides will further develop the riverside area and help to reposition the River Bann as an attractive and desirable location in Portadown.
Speaking during a tour of the Riversides area, Lord Mayor Councillor Mealla Campbell commented:
"This investment is testament to our commitment to regenerate our town centres and help them develop and become more sustainable. By rejuvenating a beautiful and historic part of Portadown we hope that people will experience the unique riverside offering and combine this with a visit to Portadown's award-winning high street."
Paul Carr from the Department for Communities said:
"This investment will further enhance Portadown's offering and will make the town even more attractive, demonstrating our Department's commitment to regenerating our town centres."
The Riversides project works, part-funded by Department for Communities as part of their Lurgan/Portadown Environmental Improvement Schemes and carried out by RPS Consultancy and CCNI Contractors, included resurfacing, additional lighting, extension of boundary treatment and additional terracing around the refurbished Pump House.
The second phase of the project proposes further resurfacing, flood mitigation, improved linkages, planting and landscaping, signage, street furniture, orientation and interpretation, revised boundary treatments, additional tourism/events infrastructure and the development of play facilities.