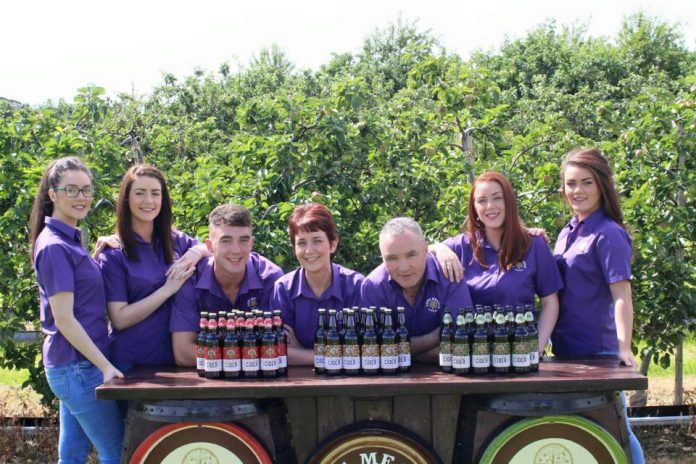 Long Meadow's Blossom Burst Cider will be judged by top UK food critic Charles Campion at tasting session in competition to find NI's 'Best' product.
George Best Belfast City Airport has announced that a product from Portadown has been shortlisted as one of 10 finalists in a competition offering producers the chance to win £30,000 of marketing support and brand visibility at the airport.
Long Meadow Cider will present its Blossom Burst Cider at a tasting session on 16th May at Belfast City Airport to a panel of food and drink experts including one of the UK's most high-profile food critics, Charles Campion.
The competition, launched in partnership with Food NI and local councils in January to find the 'Best' local food and drink product, offers one producer the prize of £20,000 of branding on site at Belfast City Airport and £10,000 of online support through the airport's digital channels.
The tasting session follows on from a detailed application process and two-week social media competition.
Joanne Deighan, Commercial Manager at Belfast City Airport, food and beverage expert Charlie Kerlin, Director of Corporate Finance at Grant Thornton, and Michele Shirlow, CEO of Food NI, will also sit on the panel.
Joanne Deighan, Commercial Manager at Belfast City Airport, said:
"We were truly blown away by the standard of entries we received and would like to thank all producers who entered the competition, particularly those that progressed to the second stage of the competition on Facebook.
"The airport plays host to 2.67 million passengers from all over the world travelling through the airport each year, so this prize will be hugely beneficial to the winner and will introduce them to an exceptionally diverse audience."
Michele Shirlow, CEO of Food NI, commented:
"We are very pleased to announce the final shortlist of 10 products, all of which are outstanding, in fact the top 30 products were all excellent and it was tough to whittle it down to just 10.
"We are thrilled that Charles Campion will be joining us for the final judging session as his expert opinion is highly valued throughout the UK food and drink sector.
"Our aim is to continue to ensure that the legacy of the NI Year of Food and Drink continues in 2017 and beyond. Through competitions like this, we have maintained that momentum by showcasing Northern Ireland's truly world class produce."
Charles Campion, acclaimed Food critic for The Times, The Daily Telegraph and the London Evening Standard, said:
"I am delighted to be on the judging panel for this exciting competition with Belfast City Airport and Food NI to help shine a light on the fabulous food and drink producers that Northern Ireland has to offer.
"It is excellent to see such a diverse range of products in the shortlist, and I appreciate this is the tip of the iceberg of the talent that exists in Northern Ireland. All of the shortlist are well deserving of the marketing prize. I look forward to sampling each of the products on 16th May."
The full list of 10 shortlisted products is:
Mash Direct – Champ
Long Meadow Blossom Burst Cider
Melting Pot Traditional Butter Fudge
Morelli's Ice Cream – Double Cream Vanilla Ice Cream
Boatyard Distillery – The Boatyard Double Gin
Abernethy Butter Company – Abernethy Butter
Mauds Ice Creams Ltd – Poor Bear's Delight
Pop Notch – Salted Caramel Popcorn
Donnybrewer Butter
Rademon Estate Distillery – ShortCross Gin
For more information on the competition, please visit  www.belfastcityairport.com/foodni
George Best Belfast City Airport can also be found on Facebook (George Best Belfast City Airport) and Twitter (@BelfastCity_Air).