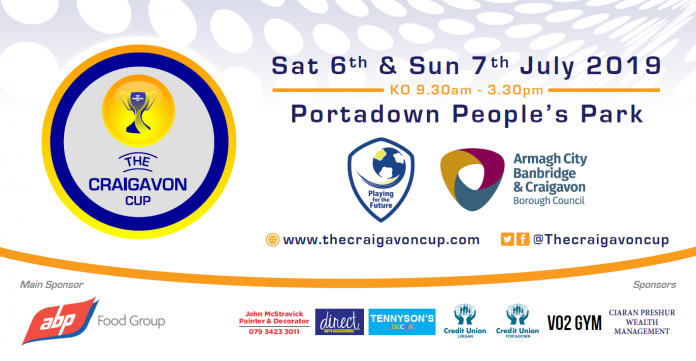 Portadown People's Park is set to be the meeting ground for thousands of young footballers, parents, coaches and supporters at this year's Jimmy Jones Memorial Craigavon Cup.
Attracting teams from Northern Ireland, the Republic of Ireland and Scotland, the hugely popular Craigavon Cup will take place on Saturday 6 and Sunday 7 July 2019 from 9.30am to 3.30pm on all pre-booked grass and 3G pitches.
With the park remaining open to the public throughout the tournament, residents and park users are welcome to come along and spectate. Throughout the course of the tournament the walkways, car park and play park may be busier than usual and residents may experience more traffic travelling through the area.
Lord Mayor of Armagh City, Banbridge and Craigavon, Councillor Mealla Campbell commented,
"We are delighted to once again host the prestigious Craigavon Cup in our spectacular Portadown People's Park. With 96 teams signing up to take part this year, we are seeing the success of the tournament grow and grow. This competition always promises to be a high-octane, fun-filled and energetic one with a lot of competitive spirit thrown in for good measure! And we can't wait to see you down there!"
The Northern Ireland Youth Football Tournament is an invitational competition for age groups Under 7, Under 8, Under 9, Under 10, Under 11, Under 12 and is organised through 'Playing for the Future' – a football academy that brings communities together through sport – and sponsored by Armagh City, Banbridge and Craigavon Borough Council and ABP Food Group Lurgan.