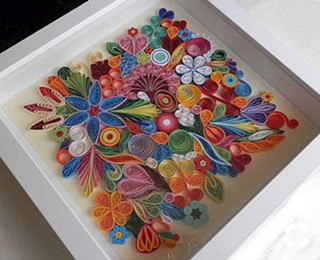 The FE McWilliam Gallery, Banbridge, is delighted to have renowned local artist and designer Rachel Fitzpatrick sharing her expertise with a fabulous three-week course showcasing the classic art of Quilling from 7 – 9pm on Thursday 26 April, 3 May and 10 May 2018.
Highly popular during the Victorian era, the art of paper filigree, or quilling as it is now more commonly known, was believed to have originated in ancient China with the invention of paper, however the earliest surviving pieces were produced in monasteries, abbeys and convents dating back to the Medieval and Renaissance periods.
Under the guidance of Rachel, participants in the workshops will discover the delights of this resurging craft. The first workshop will focus on the 2D origami style techniques of rolling, folding and pinching paper to create the intricate and geometric quilling patterns. Week's two and three will build on these quilling patterns to design and create a delicately framed artwork.
One of Northern Ireland's leading applied arts practitioners, Rachel's own work incorporates a variety of tactile materials to create wonderfully playful one-off installations and limited edition pieces for corporate and private interiors and special events.
Following the three-week workshop Rachel will be jetting off to Venice having been awarded the prestigious Artist International Development Fund to showcase her work at Venice Design, the largest design exhibition running as part La Biennale di Venezia, one of the world's most celebrated cultural organisations.
The cost for the three-week Quilling workshop is £40 and includes all materials. For further information or to book a place contact the F.E. McWilliam Gallery & Studio on T: 028 4062 3322, Monday – Saturday 10am – 5pm or E: Details on all activities and exhibitions can be found at www.femcwilliam.com or www.facebook.com/femcwilliamgallery