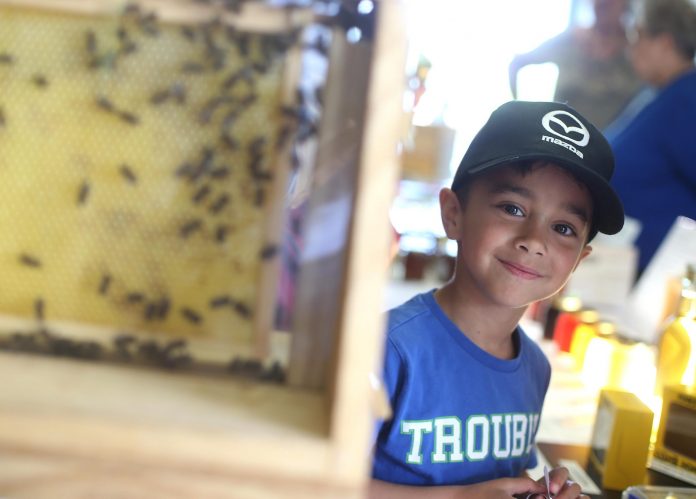 Did you know that without bees and other pollinating insects we wouldn't have many of the fruit and vegetables we take for granted – we wouldn't even have coffee or chocolate!  For more fascinating facts and hands-on experience of these amazing creatures do not miss out on the ever popular annual 'Bee Curious' event at Oxford Island!
Organised by Armagh City, Banbridge and Craigavon Borough Council, Bee Curious will take place on Saturday 18th May from 11am to 4pm.
This FREE family day out offers an exciting insight into the magical world of pollinating insects, including honey and bumblebees, hoverflies, butterflies and moths and celebrates the importance of these creatures to local food producers.
Local beekeepers will have a live demonstration hive where you can see bees working at first hand, learn all about bee keeping and check out the equipment used, how to make your garden friendly for these pollinators as well as having the opportunity to buy wax products including delicious honey and luxurious cosmetics!
For fascinating facts on our magical minibeasts visit Lough Neagh Discovery Centre and discover the important role these small creatures play in our lives and the contribution they make to the foods we eat.
As well as learning about buzzing bees and other pollinators, there will a range of workshops and demonstrations including flower arranging, photographing insects and butterflies, candle making, willow and straw craft and there will even be a workshop on beekeeping for young people!
Add in art and craft activities, face painting, lively music, the wonderful food served at the Loughside Café and the beautiful setting of Oxford Island and you have the perfect combination for a great day out for all the family.   Bee Curious is an event not to be missed!
Entry to the event and car-parking is free and a shuttlebus will operate on site to bring visitors from car parks a little further away.
For further information please contact the Lough Neagh Discovery Centre on 028 3832 2205, check out www.oxfordisland.com or visit our Facebook page at www.facebook.com/oxfordislandnaturereserve.