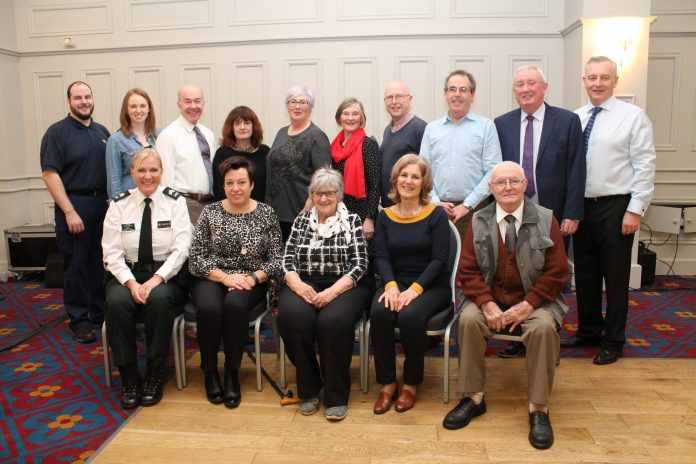 Around 140 older people got to enjoy a day of entertainment and advice focusing on personal safety and wellbeing at Armagh, Banbridge and Craigavon Policing and Community Safety Partnership's (ABC PCSP) 'Keep Safe Keep Well' event, held recently at the Seagoe Hotel, Portadown.
Organised and funded by ABC PCSP, the fun information day saw a diverse range of speakers, information stands and entertainment all providing a guidance and support on issues that affect older people.
Guest speakers included Fiona Devlin from Southern Health and Social Care Trust who explained their 'Access and Information' service, which supports older people to live longer in their own home. Ciara Doris from Start360, a leading provider of support services, highlighted the dangers of hoarding prescription drugs in the home and how best to dispose of them, while Sergeant Billy Stewart launched the 'In Case of Emergency Card' (ICE Card) initiative. Indicating who should be contacted in the event of an accident or emergency, the ICE Card also provides your medical information including any conditions or allergies you may have, medication you are taking and your blood type.
Welcoming the 'Keep Safe Keep Well' event, Councillor Joe Nelson, Chair of ABC PCSP commented,
"Older people need help and advice to enable them to keep well and live independent lives and this event provides lots of information and advice about how they can make their lives easier and safer. It is important to remember that older people are less likely to be victims of crime but crimes against older people should not be ignored. The purpose of the 'Keep Safe Keep Well' event is to enable older people to keep themselves safe and healthy".
The event also saw talks from the ABC Seniors Network, the PSNI and ABC Council's home safety department, with a range of information stands on key service areas also on display. Some light entertainment was also provided in the form of an interactive and engaging performance on the growing issue of scams from Armagh Theatre Group.
Closing the event, Sergeant Billy Stewart PCSP commented,
"Today is an excellent example of real partnership working and I'd like to take this opportunity to thank everyone involved in making this day possible. Hopefully everyone has enjoyed their day and will take away some information that will enable them to keep safe and keep well."