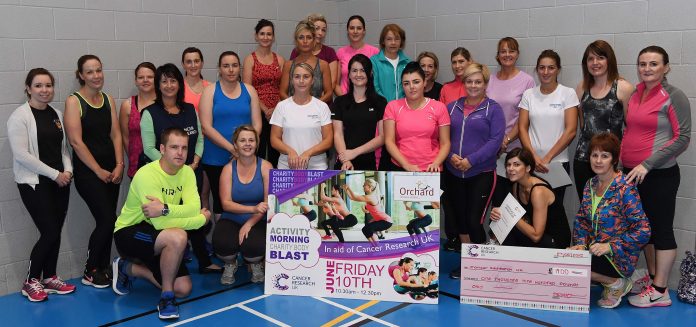 On Friday 10th June, a Charity Body Blast class took place in Orchard Leisure Centre.  All participants raised sponsorship money for Cancer Research UK which will go directly to Cancer Research UK's Belfast Office and will be distributed throughout Northern Ireland.  The body Blast class included Spinning and Bodypump and involved 32 participants.  Each participant received a t-shirt for their efforts sponsored by Council.
Upon receiving the cheque for £1900 on behalf of the charity, Adele Harris, Local Fundraising Manager said, "Cancer Research UK currently spends over £2 million a year on its life-saving work in Northern Ireland. We are the only charity to research all 200 different forms of cancer, but receive no government funding; every step taken towards beating cancer relies on every pound donated.  Every hour someone in Northern Ireland is diagnosed with cancer, so there can be few families whose lives have not been touched by this disease. A huge thank you to all those who helped raise this amazing amount – your support is helping to beat cancer sooner".
Lord Mayor, Councillor Garath Keating was equally delighted by the success of the Charity Body Blast class, stating, "This is a fantastic achievement for all involved.  It is excellent to see people not only keeping fit but also working hard to raise money for Cancer research UK; a charitable organisation close to the heart of so many people."
The participant who raised the most money was Melissa Corr, she raised a total of £205 and received a free MYZONE Belt for her effort.  This belt will be a great asset for her future fitness goals as it will monitor percentage heart rate during workouts showing the effort level of the user and thus the efficiency of her workout.  Well done Melissa!!
A special thanks to Cathal Mone and Brenda Fegan for organising the successful event.
For more information on Cancer Research UK visit www.cancerresearchuk.org or activity classes at the Orchard Leisure Centre visit www.armaghbanbridgecraigavon.gov.uk/olc.