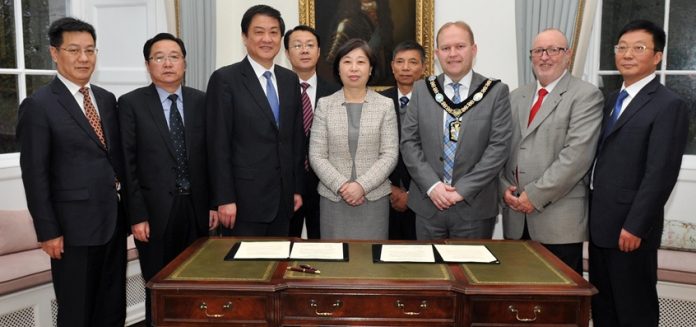 Armagh City, Banbridge and Craigavon Borough Council recently welcomed to the borough a delegation of six Government officials from the Taizhou City region of China.
Led by First Deputy Mayor of Taizhou Municipal People's Government, Yang Jie and accompanied by Madam Wang of the Chinese Consulate in Belfast, the visit was arranged to establish and develop greater links with council and local businesses in the area.
Both the borough and the Taizhou region have strong life sciences and advanced manufacturing industries including a focus on food production. The official visit is the first step in developing a friendship and building a partnership that can bring many benefits to Taizhou and Armagh City, Banbridge and Craigavon.
The Lord Mayor, Alderman Gareth Wilson greeted the delegation as they arrived at the Palace, where he and the First Deputy Mayor of Taizhou, Yang Jie signed a letter of introduction and exchanged gifts. The letter highlighted the intent between the two regions to exchange information as well as to explore friendly co-operation and opportunities in the fields of economy, trade, science and technology to promote economic development.
"As an outward looking and ambitious Council we are delighted to make this connection with the Taizhou City region of China. We are in the process of developing our international linkage framework and this visit reinforces the importance of reaching out to new markets for collaborative opportunities. We hope that it will be the beginning of a fruitful and sustained relationship with the area and present opportunities for partnership with local business here" said the Lord Mayor, Alderman Gareth Wilson.
The delegation moved on to Almac for a meeting with senior staff before attending a business lunch in their honour at Craigavon Civic and Conference Centre with representatives and businesses from the borough.
"Our business community is thriving, fast growing and extremely diverse. We have a lot to offer international visitors in the advanced manufacturing, life and health sciences, agri-food production, and digi-tech industries. The visit fits in with Council's outward global perspective which will see us support local businesses in exploring the North American, India, GB and ROI markets through trade missions this year. This partnership is indicative of the direction the borough is moving and we can only benefit from creating and nourishing new relationships with colleagues from across the globe" said Chair of the Economic Development and Regeneration Committee, Councillor Joe Nelson.