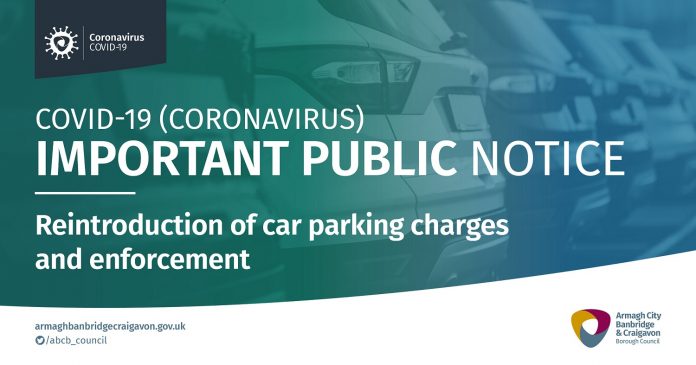 For the last few months Armagh City, Banbridge and Craigavon Borough Council has suspended off-street car parking charges to encourage people to come back into our towns and support our local businesses following Covid-19 – and it has been great to see the towns slowly coming back to life.
Car parking charges will now return on Tuesday 1st September – and council is encouraging people to take advantage of the fantastic cashless payment system in place, meaning you no longer have to search your pockets for loose change!
JustPark allows you to pay for your parking with a debit or credit card, rather than cash. All you have to do is register for the JustPark Cashless Payment System and then you can pay for and manage your parking using your mobile phone, mobile app or online.
The tariff for each car park will remain the same, and this will be kept under review as our towns continue their recovery in response to Covid-19.
"We are delighted to have been able to waive car parking fees for the last few months to help boost our borough and to support our local businesses," commented the Lord Mayor of Armagh, Banbridge and Craigavon, Councillor Kevin Savage.
"The JustPark cashless payment system is a great addition to our car parks as it is so much easier to pay for parking through an app – no more searching for loose change and finding a pay and display machine! You can also use the app to extend your stay if you need a little extra time, without having to go back to the car park."
You can download the JustPark app from:
For more information on cashless parking please visit www.nidirect.gov.uk/articles/street-and-street-parking  or the JustPark website.
The machines will still accept cash for those who cannot access the app. Enforcement will also return on 1st September along with car parking charges.