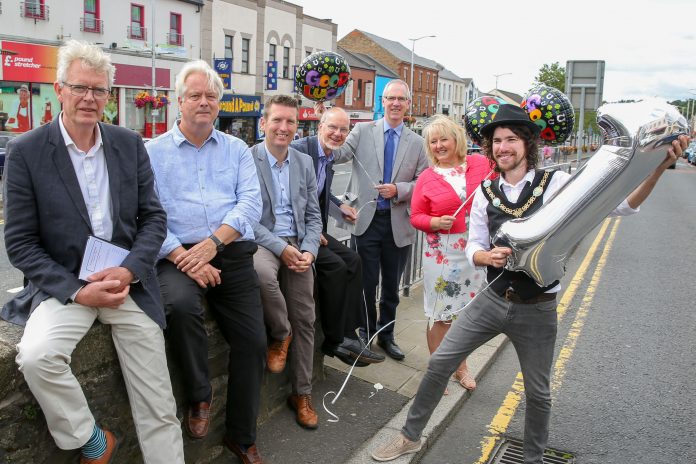 With Newry Street in Banbridge nominated for a Great Street Award from the Academy of Urbanism, judges received the warmest of welcomes from Council representatives and local businesses when they visited the town on Monday 1 August 2016.
Lord Mayor Councillor Garath Keating, assisted by Town Centre Manager Mechelle Brown, led the council delegation in hosting the judging panel. The day started with a meet and greet session in the Old Town Hall, where judges got the opportunity to taste a range of foods produced by businesses in Newry Street and learn about the town.
To help the judges gain a better understanding about Newry Street, the Council commissioned a video which showcased businesses and the community activities which take place in Newry Street. In addition, it produced a booklet which summarised the unique qualities of Newry Street. Copies are available from businesses in Newry Street and the Old Town Hall.
As well as listening to a presentation about the history of the town along with learning about past and future projects, the judges were taken on a tour of Newry Street where they got to meet local people, business owners and the community radio.
Speaking afterwards, Councillor Keating commented: "One of only three finalists to be nominated from over 70 entries from across the UK, we are immensely proud that Newry Street has been shortlisted for this award. It is especially pleasing that the street was nominated by a member of the Academy who had previously visited Banbridge.
During the judging, our focus was to promote and highlight the contribution made by local businesses and community groups to the vitality of the street and those who provide the great quality goods and service which make Banbridge unique. I look forward to hearing how Newry Street performs when the results are announced in November."
Feedback was very positive. The judges enjoyed meeting businesses, learning about the town and hearing about Council projects. It was also a good opportunity for the Council to learn from the judges who are experts in the field of urbanism.
Once all three finalists streets have been visited, the judges will prepare a detailed report about each street which will be presented to the Academy members so that they can vote for the winning street.
In preparation for the judging, the Council was required to complete a self-assessment questionnaire, which included a wide range of questions about the vision for the street, the relationship between the street and its surroundings, stakeholder engagement, public realm responses to the needs of the local community, distinctiveness, local topography, local character, amenity, wellbeing, heritage and sustainability.