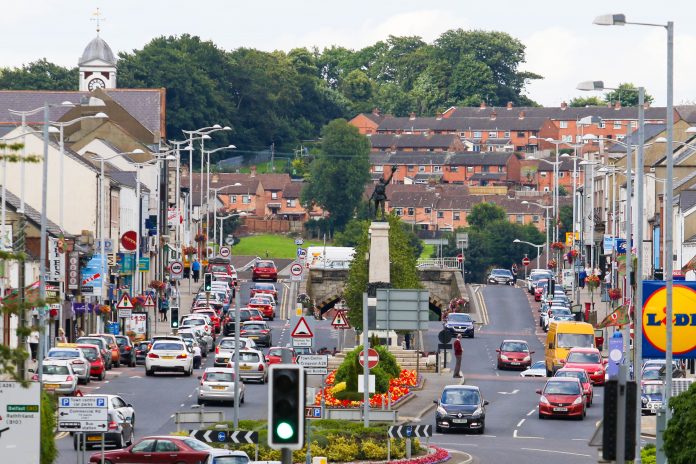 Newry Street in Banbridge narrowly lost out to being named as the best in the UK and Ireland at the Academy of Urbanism Awards in London on Wednesday 17 November 2016.
The town centre area was shortlisted as one of only three streets across the UK and Ireland. The award is one of five given out annually by built environment network The Academy of Urbanism to recognise the best urban environments. Each award covers social, economic and environmental factors including governance, commercial success, health and wellbeing.
Speaking at the awards, Mechelle Brown, Arts Events and Town Centre Manager said: "I am disappointed but also very proud that Newry Street in Banbridge narrowly missed being on the top spot in the Great Street Award. To be shortlisted as only one of three streets across the entire UK and Ireland is testament to the immense sense of community pride that prevails in this little corner of the world. Although it was only one street it is a fantastic reflection on the Borough as a whole.
My thanks go to the Academy of Urbanism for allowing us to showcase our wonderful town centre but also to all the local independent businesses, high street traders, community groups and not forgetting the general public who bring a vibrancy and individuality that allows Newry Street to shine."
The Academy's assessment team, which visited Newry Street earlier this year praised the evident and ingrained collaboration between the council and local businesses, many of which are independent. This, the Academy noted, has led to a high street with a "real sense of ownership and partnership". The Academy also welcomed the way in which the council have learned from external guidance and had the confidence to nurture entrepreneurs.
Steven Bee, chair of the Academy, said: "This historic street has recovered from past difficulties and, with a new master plan to guide management and physical improvements. The amalgamation of local authorities has created better focus and the co-operation between public, private and voluntary interests is reflected in the positive attitudes and atmosphere. Newry Street still has work to do, but the appetite is reflected on the success of the high proportion of local businesses.
Our finalists this year, possibly more than any other, are a collection of places that offer lessons for all urbanists – and we are all urbanists.  The Academy of Urbanism takes this opportunity to celebrate the achievements of our finalists and the lessons they offer to other places seeking to emulate their success."
The over-all winning street was announced as Wood Street in the Walthamstow neighbourhood of London.  Other winners were announced as Copenhagen, which won The European City of the Year; Clonakilty in Ireland, which scooped The Great Town Award; Ashley Vale, Bristol which won The Great Neighbourhood Award; and Waterford's Viking Triangle won The Great Place Award.