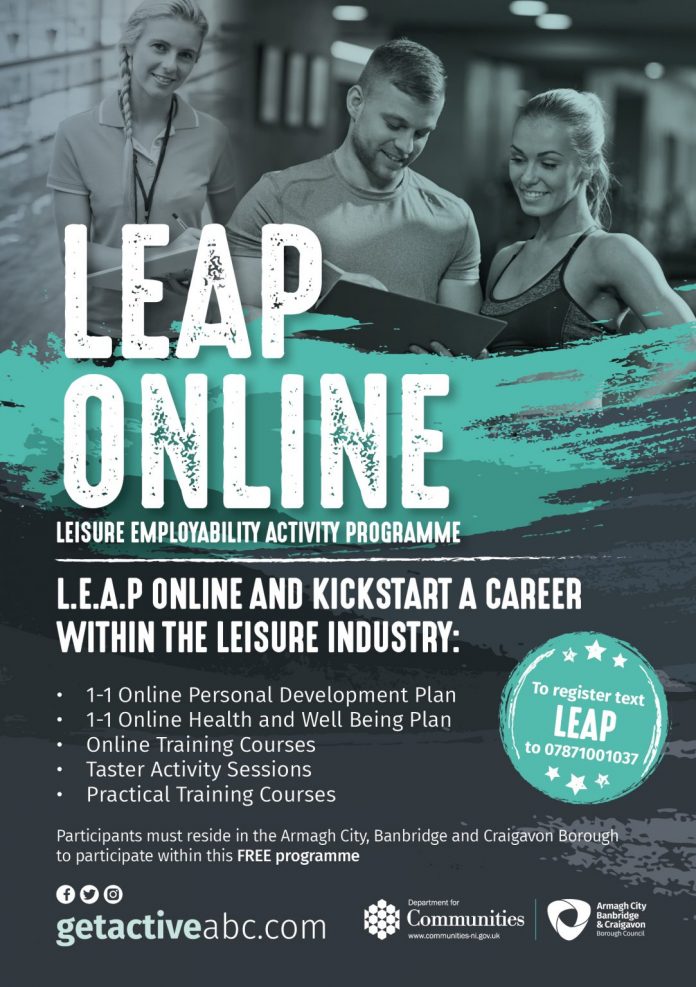 Armagh City, Banbridge and Craigavon Borough Council has launched a new online programme in a bid to help unemployed and under-employed people  acquire the skills and qualifications needed to kick-start a career in the leisure industry.
L.E.A.P, which stands for Leisure Employability Activity Programme, is being fully funded by the Department for Communities through its Sport in the Community Neighbourhood Renewal Programme.
Throughout the programme, the aim is to use sport and physical activity as a tool to guide participants on a personal development journey to help them gain qualifications and employment.
Open to both men and women aged 16 over who reside in the borough, L.E.A.P online will provide participants with the opportunity to improve their own health and fitness, focus on their personal development, learn about social citizenship, develop employment skills and take part in training and work placements.
Not only is it free to participate in the programme, one of its unique selling points is that it will be tailored to the needs of each participant with one-to-one support, mentoring and training provided to suit the individual's preferred career path.
Speaking about the new programme, Lord Mayor of Armagh City, Banbridge and Craigavon Borough, Councillor Kevin Savage said:
"The launch of L.E.A.P online is welcome news especially in the current climate.  As we bear the economic burden of coronavirus, I'm delighted to hear that we are launching a programme that will enable unemployed and under-employed people gain the skills and qualifications needed to enhance their future job prospects. 
For people who are keen to pursue a career in sports and leisure, I would strongly encourage you to contact our Community Sports Development team and discuss if L.E.A.P online can put you on the right path to achieving your career goals."   
Typically participants would meet once a week to take part in sport and physical activity taster sessions as well as an employability or personal development workshop.
However, in keeping with current social distancing guidelines, the programme has been adapted so that it can be delivered safely online.
In the initial phase of the programme, participants can expect to focus on creating a personal development plan, a health and wellbeing plan along with completing a number of online training courses. Further down the line when it is safe to do so, they will be able to meet for taster activity sessions and practical training courses.
L.E.A.P online has been closely modelled on a previous programme – KickBack which was targeted at men aged 16 to 24 and proved very successful with over 60% of past participants moving into full-time education or gaining employment.
With the programme running until March next year, participants are invited to join at any stage and complete all strands at their own pace.
To register to participate in this programme, text LEAP to 07871 001037 or complete an online registration form at https://form.jotform.com/193561971277368.