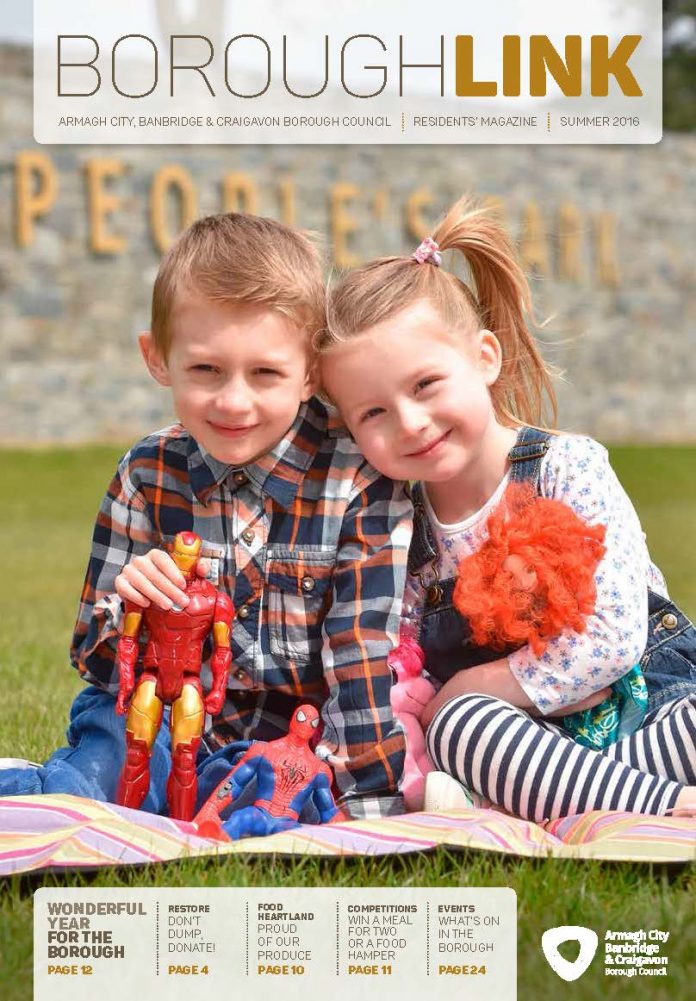 Borough Link, a new magazine produced by Armagh City, Banbridge and Craigavon Borough Council, will be delivered to every household in the borough in the coming week.
In the first edition, residents can read about key areas of work that the new local authority has focused on during its first year – service alignment, performance improvement, reputation building and place shaping.
The main feature presents an overview of the most significant highlights in 2015/16. As well as listing the many achievements and awards that the new council area has amassed to date, it outlines how local communities are benefiting from major investment following the completion of capital projects such as Portadown People's Park (£5.47m), Tommy Makem Arts and Community Centre in Keady (£2.5m), Old Town Quay in Portadown (£413,000), Craigavon Community Greenway Project (£1.3m) as well as new and upgraded play areas (£859,000).
Speaking about the publication, Lord Mayor Councillor Garath Keating commented: "There's lots going in the new larger council area and Borough Link is a great communication tool for keeping our 200,000 residents informed about the projects we are supporting and the work we are undertaking on their behalf. With a wide range of topics covered in this issue, I am confident that there will be something of interest that will appeal to all readers. Moreover, I hope residents agree that the new council has had a very productive first year, having accomplished a lot in its short existence and developed a strong sense of purpose in all its activities."
The summer issue is loaded with ideas on great places to visit in the borough and exciting things to do for families with children. There's a 2 for 1 voucher for Navan Centre and Fort and £1 swimming sessions for under 18s throughout July and August.
Plus, there are great prizes up for a grabs. Six lucky readers can win a meal for two up to the value of £50 in one of the borough's top eateries. The Food Heartland Forum, which is using the NI Year for Food and Drink as a platform to champion the borough's thriving agri-food sector, is also giving away a hamper full of local produce. The closing date for entering both competitions is 31 July 2016.
Get an update on environmental improvement schemes that will enhance the physical environment in Lurgan, Keady, Richhill and Portadown and funding that will restore and enhance Armagh City's built heritage.
Learn about the many initiatives that the council is delivering to help older people lead a fuller life, disabled people to find out about the accessibility of public venues in the borough and keep young drivers, park users and Neighbourhood Watch communities safer.
Householders are encouraged to donate their old and unwanted household furniture and electrical goods to their local recycling centre and support a campaign to achieve Love Food Hate Waste town status for Lurgan. There's also an update on the new powers of planning, off-street car parking, community planning plus much more.
To download a copy of Borough Link click the link below.