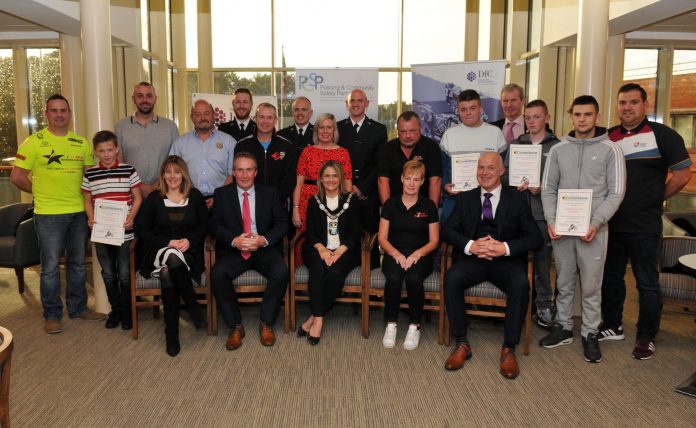 An innovative project aimed at engaging with young people to help reduce anti-social behaviour has been a resounding success – and this success was celebrated at a recent event.
The Motorbike Awareness Programme (MAP) is an educational project for young people aged 13 to 17 to teach motorcycle safety and to channel their interest in a positive way – led by ABC Policing and Community Safety Partnership (PCSP).
The programme included a combination of study sessions and practical sessions teaching both bike safety and riding skills. They also left the course with Certification in Emergency First Aid at Work, a Motor Cycle Union of Ireland Marshal certificate, Basic Maintenance Skills and Basic Riding Skills – all facilitated by Cornerstone Off-Road Motorcycle Academy.
"This programme has been a huge success and it is so good to see the commitment of these young people to motorbike safety," commented the Lord Mayor, Councillor Mealla Campbell.
"I have heard so many positive stories from the young people themselves who thoroughly enjoyed the programme and I am delighted that council has been able to work closely with a variety of partners to nurture them to achieve their goals."
Chair of the PCSP Councillor Lavelle McIlwrath added, "All of the young people who have participated in this programme should be very proud of themselves – and it is clear that their parents certainly are! This programme has helped them to gain practical and lifelong skills that will help them in their future endeavours. Well done to everyone who took part!"
CEO of Cornerstone Off Road Motorcycle Academy Carol Mulligan added, "It has been a privilege to be able to design and deliver the Motorcycle Awareness Project on behalf of the ABC PCSP. We have been so impressed with the amount of local partner support we received, especially from Alan & Siobhan at Alltrak Rally Sport, Brian, Ryan & Matthew from the PSNI, Brownlow Neighbourhood Policing Team. We are delighted to have had the opportunity to "Train the Trainer" with Chris & Big Dee getting valuable coaching experience as they work towards their coaching licence. Local coaches are necessary for a sustainability of the Project's aims and objectives. We also had the opportunity to offer an ex offender a volunteering opportunity as part of his personal rehabilitation process.We would like to pay special thanks to Mark for his commitment, openness and honesty, it was a massive input, that really reached the students in a tangible way.
The ABC PCSP deserve much credit and praise for being the first council area to "Buy in" to this Project and for their vision in seeking to provide a viable answer to what is often described as an anti-social problem. Together we have proven that by engaging young people in their passion by using a Vocational Education approach, positive outcomes have been achieved with attitudes and behaviours of the students changed.
Finally, we are continually grateful for the efforts of those in the Ulster Grand Prix. Dept. Of Justice, Dept. Of Communities and the PSNI who have been the steering group and financial backers of this innovative Project."
Tony Murphy, Head of Sport at DfC said that, "The Department for Communities and our colleagues at the Department of Justice are delighted are delighted to continue to support the delivery of this fantastic initiative which is clearly having a very positive impact on not just the lives of the individual participants but also on local communities.  The specialist safety equipment, motorbikes and mobile unit funded by the Department for Communities means that this innovative programme can be delivered anywhere in Northern Ireland."
PSNI Brownlow Neighbourhood Policing Team Constable Brian Hull said: "It has been an a privilege to work with the young people on the Motorcycle Awareness Programme and to help educate them around motorcycle safety and increase their skill sets. It has been amazing to witness their development and I have been heartened by the way in which they have engaged positively with us throughout every session. Officers from Brownlow Neighbourhood Team were delighted to participate in the MAP and we look forward to continuing to do so in future."
This programme was joint funded by Armagh, Banbridge & Craigavon PCSP, Department of Justice and Department for Communities and supported by Brownlow Neighbourhood Policing Team, council's Sports Development Department and the Ulster Gran Prix.