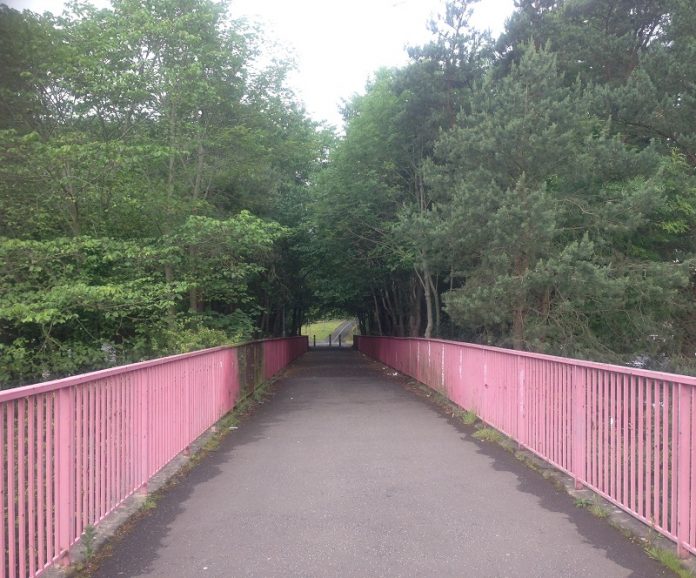 Improvements to Marlborough Bridge are to get underway thanks to £750,000 investment from Armagh City, Banbridge and Craigavon Borough Council, Department for Communities and Department for Infrastructure.
The works on the Marlborough Bridge, which links Rushmere Shopping Centre and Marlborough House, is the second phase of the Revitalisation Project, which aims to rejuvenate and modernise the pedestrian bridges in Central Craigavon and enhance this key focal entry point into Craigavon.
The first phase of the scheme saw a series of interventions and improvements to the footbridge on Lakeview Road, Central Craigavon in 2017.
Commencing early March 2020, planned improvements will include new stainless steel railings, decorative handrail lighting, bridge up lighting, wayfinding and landscaping. With works due to complete in summer 2020, the bridge will remain open to users throughout the duration of the scheme.
Welcoming the investment, Lord Mayor of Armagh City, Banbridge and Craigavon, Councillor Mealla Campbell commented,
"It is great to see this second phase of the Bridge Revitalisation Project get underway in Central Craigavon. It is the perfect opportunity to improve this key pedestrian linkage, which leads to the state-of-the-art South Lake Leisure Centre due to open this August.  This investment is very much welcomed as it will enhance the longevity of the footbridge as well as making it more inviting for users."
Communities Minister Deirdre Hargey, whose Department is providing £360,000 toward the project said,
"I very much welcome this development for an important bridge for Craigavon. The works will improve pedestrian and cyclist safety for people using this key thoroughfare in the town.  Its upgrade will help to improve connectivity and linkages with communities and support the continued regeneration of Central Craigavon by making it more attractive, welcoming and safe for all users. I am pleased that my Department has been able to support this initiative with a substantial investment that will no doubt be welcomed by all those who use this bridge."
Representing key links for pedestrians and cyclists in Central Craigavon, the footbridges have provided safe separation from vehicular traffic since their construction in the 1970's. Now reaching the stage for refurbishment, the revitalisation project offers the opportunity to deliver future improvements to the remaining bridges as part of a wider programme of public realm work in Central Craigavon.