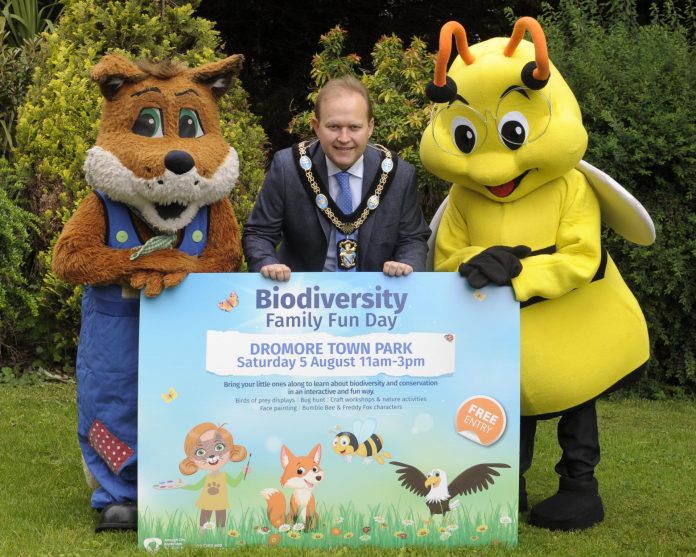 Families who make a beeline for a biodiversity-themed event in Dromore Town Park on Saturday 5 August from 11am to 3pm will be buzzing with excitement owing to a hive of activities on offer – birds of prey displays, bug hunts, craft workshops, nature activities, Bumble Bee and Freddy Fox characters and face painting.
This free event, which aims to raise awareness about the importance of biodiversity and conservation to a young audience, has been organised by Armagh City, Banbridge and Craigavon Borough Council.
A swarm of wildlife and conservation groups will support the council in giving families a rare opportunity to meet a wealth of wildlife and learn in a practical and fun way about how each species interacts with the surrounding environment or ecosystem.
Among those attending will be World of Owls, the Royal Society for the Protection of Birds (RSPB), Ulster Wildlife, The Conservation Volunteers, National Trust, Lough Neagh Discovery Centre and Kinnego Marina – all of whom will offer practical activities and share interesting facts about how the local community can help conserve and enhance native biodiversity.
Lord Mayor, Alderman Gareth Wilson, commented: "The borough is rich in biodiversity and boasts some 110 international, national and local conservation designations. We value our wild places and the animals and plants that inhabit them. We have a tremendous range of habitats from the urban and suburban gardens of the towns and villages to the vast waters of Lough Neagh, the rolling pastures of agricultural land and orchards to the rolling foothills of the Mourne Mountains.
Through events such as this, we can spark interest and influence attitudes towards conserving our borough's habitats and protecting endangered species. Biodiversity is basically our life support system – so it is really important that we look after it properly. I would encourage parents to give their children a day off from technology and spend it outdoors where they can enjoy the benefits of connecting with nature."
To find out more about this event, call 0300 0300 900 or email