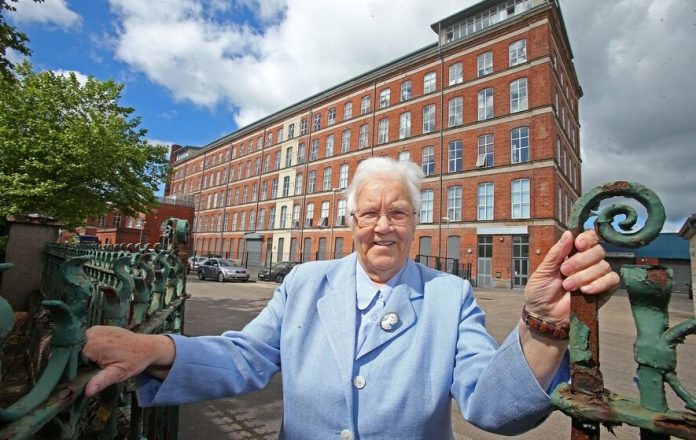 As part of Enterprise Week 2019, Armagh City, Banbridge and Craigavon Borough Council are delighted to present 'Lunch with Baroness May Blood MBE', where the former member of the House of Lords will speak about her involvement with the Social Economy Sector and Argyle Business Centre.
Taking place on Monday 18 November 2019 at Mayfair Business Centre Limited, Portadown, from 12pm – 2pm, this free lunch event is aimed at those involved in the social economy sector throughout the borough.
Baroness Blood was born and raised in Belfast and worked in a linen mill from 1952 – 1989 where she soon became an active member of the Transport and General Workers Union and a shop steward. She was involved in creating the women's committee in the Trade Union and promoting equality for women at work.
In 1989, Baroness Blood became a community worker on a project for long-term unemployed men. She also worked with the Great Shankill Early Years Project as Information Officer from 1994 to 1998 where she helped to establish three community centres in the Shankill area, and as a Chair for Barnardo's Northern Ireland committee from 2000 to 2009.
Speaking ahead of the event Lord Mayor of Armagh City, Banbridge and Craigavon, Councillor Mealla Campbell, commented, "We look forward to welcoming Baroness May Blood to Portadown. Although originally from Belfast, many people may not know that her full title is Baroness Blood, of Blackwatertown in the County of Armagh, which she received on 31 July 1999. With a wealth of experience in community work, we are in for a treat to hear from Baroness Blood during Enterprise Week.
This is one of many events in a full programme providing an excellent opportunity for networking and learning, so I would encourage all local social enterprises and entrepreneurs to come along and be part of Enterprise Week."
Sponsored by SONI, Enterprise Week 2019 will run from 18 to 22 November and will see a total of 17 free events take place across the borough. Aimed at the whole business community it will include a range of inspirational and informative events, demonstrating Council's commitment to nurturing and developing the local economy.
Local enterprise agencies, including CIDO Ltd, Banbridge District Enterprise Ltd, Mayfair Business Centre, Armagh Business Centre and Brownlow Ltd will be hosting drop-in clinics and offering advice and guidance on programmes which help turn business ideas into reality.
Advance booking for 'Lunch with Baroness May Blood MBE essential. To register your place go to abcenterpriseweektickets2019.eventbrite.co.uk.
Further details on all the events featured in this year's Enterprise Week visit armaghbanbridgecraigavon.gov.uk/business/enterprise-week-2019
The Global Entrepreneurship Week debate can be followed on Facebook and Twitter #GEW2019 and #ABCEW19.