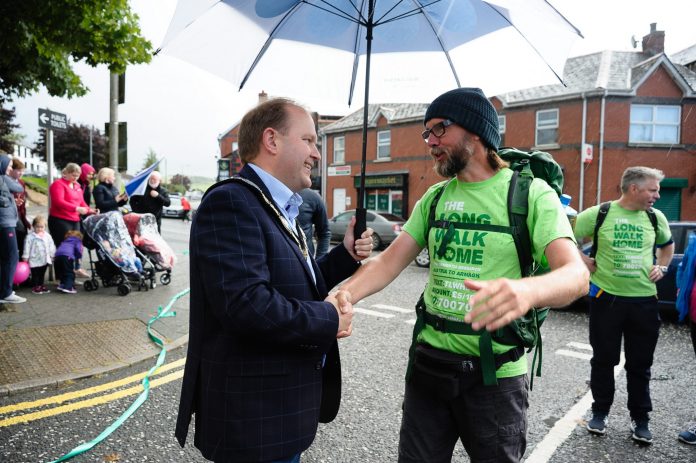 Lord Mayor Gareth Wilson welcomed home local man, Eamonn Donnelly who has walked 2,500km trek across Europe from Austria to Armagh to highlight the importance of Dementia Research.
Armagh man, Eamonn Donnelly finally arrived in his native Keady today to a hero's welcome after completing 'The Long Walk Home' – a 2500km (almost 1560 miles) across Europe to raise awareness and much needed funds for dementia research. Over the past 12 weeks, Eamonn was accompanied by his Austrian friend Sepp Tieber-Kessler all the way from Graz in Austria to Dublin, where they parted company due to Sepp's family and work commitments. Eamonn completed the final leg from Dublin to Keady accompanied at various stages by family, friends and members of the public.
He was formally welcomed to Keady by the Lord Mayor of Armagh City, Banbridge and Craigavon, Alderman Gareth Wilson as well as members of the Alzheimer's Society who will benefit from funds raised by the walk. Members of the local community, schools and sporting organisations joined family and friends to cheer him over the finish line at the Tommy Makem Arts & Community Centre in the town.
Lord Mayor of Armagh, Banbridge and Craigavon, Alderman Gareth Wilson said, "I would like to sincerely congratulate Eamonn on completing this fantastic achievement. Eamonn's journey has required tremendous commitment and motivation while raising awareness of Dementia and it is very fitting that his journey has concluded here in his hometown in Keady.
"I am delighted to advise the council will host two free Dementia Friendly workshops on Tuesday 26 September from 10am–12noon and Wednesday 18 October from 7pm-9pm in the TMAC Centre, Keady. The council recognises the need to improve awareness and understanding of Dementia and support families, carers and people in our local community, so I encourage our citizens to attend these informative sessions".
Over the last 12 weeks, the pair have climbed, trekked and camped their way from Eamonn's adopted home in Hitzendorf, near Graz across Austria, Germany, France, England, Wales and now Ireland totally unaided. The distance covered was the equivalent of walking 60 marathons in 12 weeks.
The expedition was inspired by the life of Eamonn's mother Margaret who died in April 2014 at the age of 71, having suffered from a rare and extremely aggressive form of dementia. It was aiming to increase awareness about the importance of this issue given the exponential growth of the disease in recent years, while also raising funds for dementia research across the island of Ireland.
Eamonn not only turned 50 while on the walk, but became a grandad for the first time, when his grand-daughter (who he has yet to meet) was born prematurely in Austria. While he still calls Keady home, Eamonn has lived in Austria since 1990 along with his wife and three children. He teaches English as a foreign language, but also with Sepp formed the Irish band Boxty which plays all over Austria and further afield. In the last year, they came up with the idea of 'The Long Walk Home', borne out of a frustration about how little is known about the disease, how to alleviate its symptoms or find a cure.
Speaking about the trek Eamonn said;
'The Long Walk Home', has been very challenging both physically and mentally. The fact that I both turned 50 and became a grandad for this first time, since I left home 12 weeks ago, has made it feel all the longer. Along the way however, Sepp and I were greatly encouraged by the interest from the public about the walk and the important messages behind it. As we have walked, we have generated a lot of attention and debate about dementia from those we have met directly on the walk as well as through media exposure and interviews as well as engagement online through our blog and social media channels. We have also been raising money to support dementia research and would like to thank everyone who has donated so far, as well as those who have supported us with generosity and hospitality along the way. We hope to make a significant contribution to dementia research projects following completion of the challenge in the coming weeks."
The men recorded their trek and journey via their website through a written and video blog which also includes details of the various ways that people can make a donation including online via BTMyDonate Pages and via Text (UK Only). The fundraising will remain open for a number of weeks to allow all fundraising efforts to be completed.
https://thelongwalkhome.wixsite.com/thelongwalkhome
You can also follow them on Twitter on @DementiaWalk or search for the hashtag #LongWalkHome