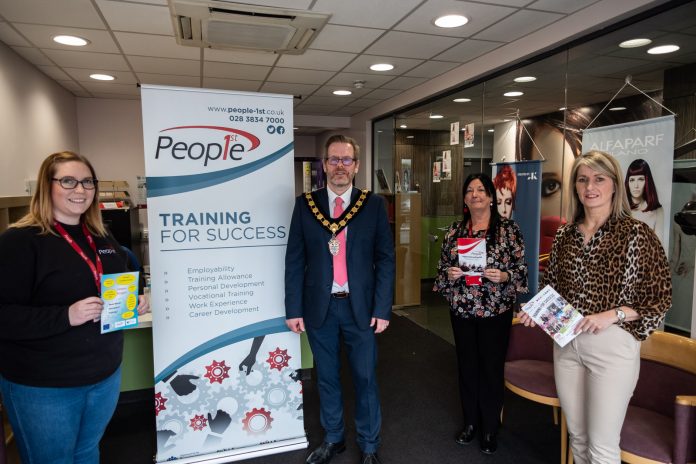 Lord Mayor of Armagh City, Banbridge and Craigavon, Councillor Kevin Savage, recently visited a local multi-award-winning training organisation, which has continued to deliver a range of government funded training, from employment support initiatives to corporate training solutions, during the Covid-19 crisis.
People 1st, based in Lurgan has adapted their delivery to meet the needs of their client base, with fantastic tutoring staff swiftly moving to new and innovative ways of teaching and learning through online platforms.
LEMIS+, a team dedicated to helping people back into employment, continue to support the clients who were participating on the programme before lockdown and are now taking on new referrals.
LEMIS+ is an excellent resource with a fully dedicated team for those seeking employment. They offer support with CVs, application writing, job searching, one-to-one mentoring, online Essential Skills English, online interview skills and guidance around employment and benefits. They have also been supporting clients with mental health, substance misuse and other issues, signposting them to the appropriate services.
The Training for Success team are very excited to be accepting applications for their full-time youth training programme for school leavers, commencing on Monday 7 September 2020. They currently offer hairdressing, barbering, retail, catering, childcare, technical IT and construction courses at their Lurgan and Portadown sites alongside English, Maths and ICT up to Level 2. Students receive a training allowance of £40 per week and have various opportunities throughout the year to receive bonuses as well!
Both sites have been thoroughly checked by their Health and Safety Manager and follow all government guidelines implementing effective infection protection and control for staff and students.
For all concerned the labour market is going to be extremely challenging. Many businesses are considering reskilling or upskilling their existing staff or urgently need additional staff to build capacity back into their organisations.
People 1st have the perfect solution and is proud to deliver the Apprenticeships NI programme. It offers recognised training and qualifications to new and existing employees across a wide range of subjects. The Apprentice NI team can offer flexibility in the delivery of training from onsite delivery to various online platforms. Funding for Apprenticeship training costs are provided by the Department for the Economy.
People 1st continues to deliver private training courses on a wide range of topics, at very competitive prices, up to and including Level 5. All training is delivered online using Zoom or Microsoft Teams, ensuring the safety of our clients and tutors.
"I was delighted to be able to visit People 1st recently and see the how they have been adapting their services, to ensure clients continue to be supported," commented the Lord Mayor, Councillor Kevin Savage.
"This award winning organisation offers a vast range of initiatives and solutions for those seeking employment, training programmes for school leavers, signposting to appropriate services for additional help that may be required, as well as delivering the Apprenticeships NI Programme. I know a lot of hard work has been ongoing behind the scenes to ensure that People 1st can continue to offer this training and support as we navigate our way through this pandemic."
Considering the current crisis, they are offering clients the opportunity to register now for accredited training programmes, paying only the awarding body costs upon enrolment, and organising a payment schedule for the remainder of the costs in September 2020.
Open recruitment for school leavers within the borough is now open, so if you are aged 16-24 and wanting to start a vocational qualification, contact their offices in Lurgan on 028 3834 7000 or Portadown on 028 3833 7000.