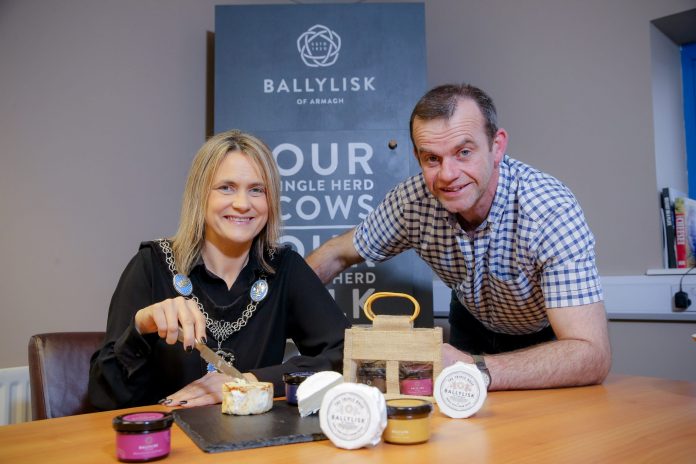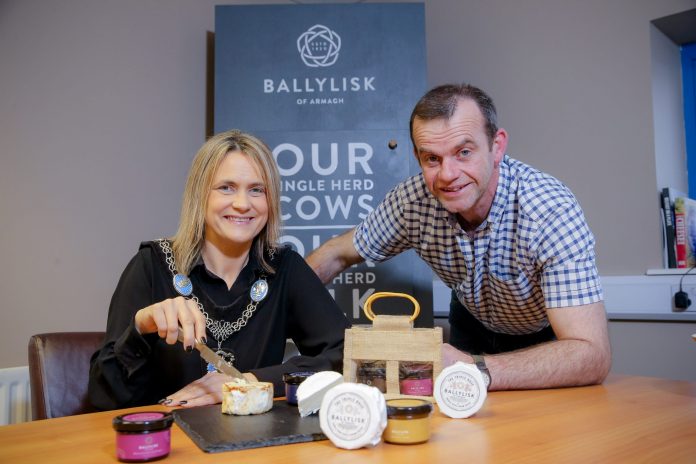 Lord Mayor of Armagh City, Banbridge and Craigavon, Councillor Mealla Campbell recently paid a visit to one of the borough's thriving food producers, Ballylisk of Armagh, to get a taste of their success story.
The family run business is currently reaping the rewards of their productivity with demands for their delicious award winning cheese higher than ever in the run up to Christmas
Whilst touring the Ballylisk of Armagh premises the Lord Mayor congratulated the local business on their growth "The hard work and commitment shown by the Wright family, coupled with the sheer quality of their produce, has undoubtedly contributed to the success of this company.
I'm heartened to hear director, Dean Wright discuss ambitious plans for the company despite impending economic challenges such as Brexit which he prefers to view as opportunities. It is great to witness first-hand the passion and drive within our local businesses which are making waves on a global scale."
The Wright family farm has been in existence since 1820 however after identifying the need to diversify in order to remain profitable the cheese business was established and the entrepreneurial blood which runs through the family has seen the business thrive
Ballylisk has established high end products using only the milk produced from their own pedigree herd, allowing for complete traceability, which are highly sought throughout the UK and further afield, with recent batches bound for Dubai.  One of Ballylisk's most high profile customers include the illustrious Fortnum and Mason in London, who stock the award winning Triple Rose cream cheese. The company also provide a smoked cheese and have exciting plans for their future produce.