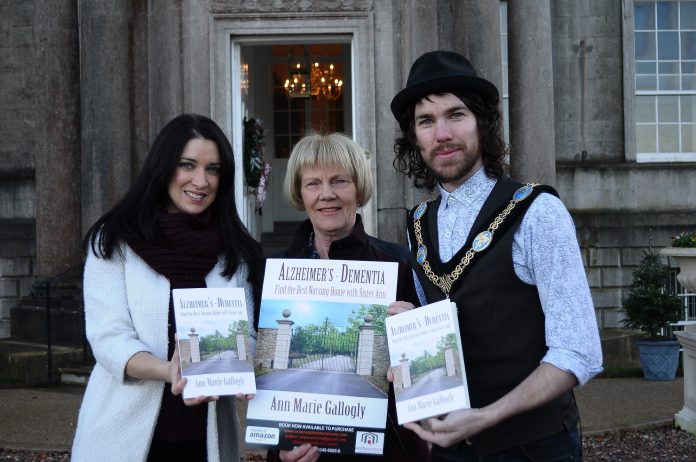 ARMAGH WOMAN PUTS SPOTLIGHT ON ALZHEIMERS/DEMENTIA
Lord Mayor Councillor Garath Keating and Councillor Sharon Haughey-Grimley joined forces this week to show their support for local woman Ann Gallogly as she promotes her new book "Alzheimer's – Dementia Find the Best Nursing Home with Sister Ann".
Lord Mayor Councillor Keating said, "It was delightful to speak with Ann and to get an insight into her work and experience and of her efforts in researching for this publication. Ann's useful book will hopefully be able to provide much advice, support and assistance to many families." 
Cllr Sharon Haughey-Grimley said, "Local people from Clady and across Armagh are very proud of Ann's achievement in publishing her own book. The issue of Alzheimer's and dementia care is very important for our society to think about and to tackle. This book considers these issues and the care needs of the sufferer and identifies important things to consider for both the sufferer and carer to make life more bearable. Unfortunately there are many families facing the struggles associated with Alzheimer's and dementia but I believe this book will be a good resource for them and for many others. I wish Ann every success with promoting her book."
Snr Ann Gallogly said, "The book is not only an information guide on how to recognise a good Care/Nursing Home for people suffering from Dementia. It is also a guide on how to improve the quality of life of the dementia patient whilst at home.
"I hope it will be of invaluable help to people diagnosed with Dementia, their families and friends and it will also be an educational guide for all people working within the Care Industry especially staff working in Care Homes."
The book is available to purchase through Authorhouse,  Amazon and locally in Emersons – Armagh, Hills – Nisa Local – Markethill, Rices Nisa Extra – Keady, Savages Monaghan Street Newry and the Fiveways. McEntees Bakery and Connolly Shop Crossmaglen or contact 07765029744