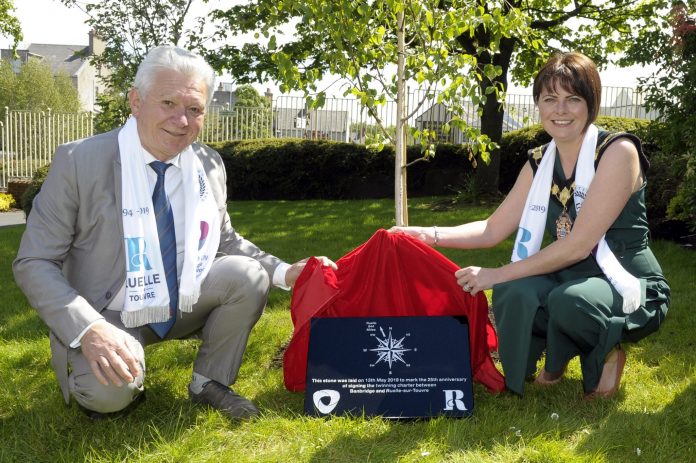 Twenty-five years on from the signing of a twinning charter between Banbridge and the French town of Ruelle-sur-Touvre, Lord Mayor Councillor Julie Flaherty hosted a civic reception to mark this landmark anniversary with one of the borough's longest and strongest international linkages.
Mayor Michel Troche, who led the 24-strong delegation from the Charente region of France as part of a week-long visit to the borough, joined Councillor Flaherty in planting a silver birch tree in the grounds of the Civic Building, Banbridge. An engraved granite stone depicting the direction and distance to Ruelle-sur-Touvre was also placed under the tree.
The large gathering, which comprised local councillors and members of Banbridge Twinning Association, made their way to the Council Chamber where both Mayors signed a Friendship Agreement as an affirmation of their commitment to further build on their long-established and much-valued partnership.
Speaking at the event, Councillor Flaherty, said: "We're proud to be strengthening our ties with our twinning partner and renewing our support for its continued success long after this close relationship was first established. There are many advantages to bringing international countries together in friendship as the strength and longevity of this twinning link attests.
Since 1994, many lifelong friendships have been forged, cultures shared and everlasting memories made through exchange trips organised for both the younger and older generation – providing mutually beneficial opportunities to learn about each other's culture, language and way of life.
This twinning link has stood the test of time thanks to the commitment of Banbridge Twinning Association and the local community who have welcomed our French friends into their homes down through the years. May it continue to grow and encourage other communities in the borough to get involved in town twinning.
Special thanks also to everyone in the local community who has been involved in making the 25th anniversary celebrations all the more memorable."
A flowerbed marking the occasion has been planted at the entrance to Banbridge Leisure Centre, Banbridge Old Town Hall has been lit up blue and local businesses in the town displayed welcome signs in their shop windows.
Banbridge Twinning Association has organised a packed programme of celebratory events as well as social and cultural activities during their stay, including a gala evening at the Belmont Hotel, a walking tour of Banbridge, vintage cars display at Scarva Visitor Centre, a tour of Bann Valley Heritage Centre, a match of two halves (rugby and Gaelic football) at Lurgan Rugby Club, a tour of Thomas Ferguson's Irish Linen, a meal at Flax Restaurant, Ballyward, a presentation on the new South Lake Leisure Centre being built in Craigavon, a farewell dinner and dance at St. Mary's Parish Hall in Rathfriland.
The council has supported the celebrations with funding from its International Linkages Programme.