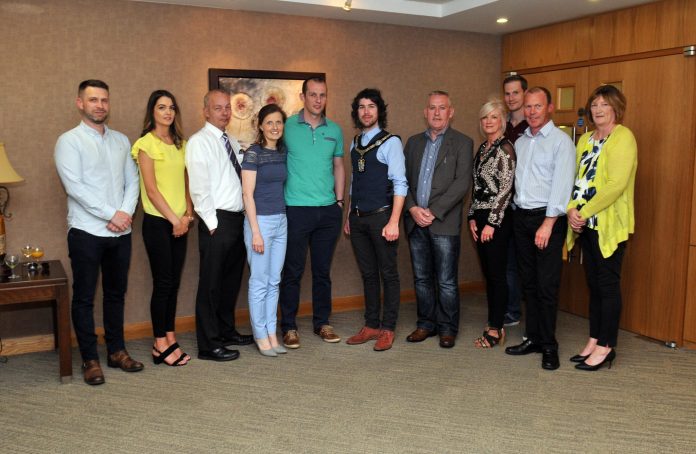 The Lord Mayor held a joint reception in Craigavon Civic Centre for a number of people/groups within the Borough that have celebrated a success or achievement in their field of work/sport.
Andrea Robinson-won Nursery Teacher of the Year- pic 1 –with colleagues from St Patricks PS; Pic 2-with members of her family.
All Stars-Pupils from St Ronan's College Lurgan including; James McAlinden, Ulster Schools All Star, Sean McAlinden Captain of McCormick Cup winning team and Michael McStravick Captain of Corn Colmchille winning team.
Mr Charles Shanks (correct spelling)– All Ireland Handball Champion, Pic 1 –with members of his family and also included Lord Mayor and Cllr Keith Haughian, Pic 2-Lord Mayor with Charles
Mr Keith Garry- World record breaking time to swim from Northern Ireland to Scotland
Pic 1 –with members of his family and also included Lord Mayor and Cllr Keith Haughian, Pic 2-Lord Mayor with Keith
St Marys GFC- Senior and Under 21 teams, Senior team won Division 2 League and Intermediate Championship; Under 21 won Under 21 Antrim Championship
Mr Diarmuid Toland (correct spelling)– Youth 2 46kg Ulster Title and All Ireland Boxing Champion Pic 1 –with members of his family and also included Lord Mayor and Cllr Keith Haughian, Pic 2-Lord Mayor with Diarmuid