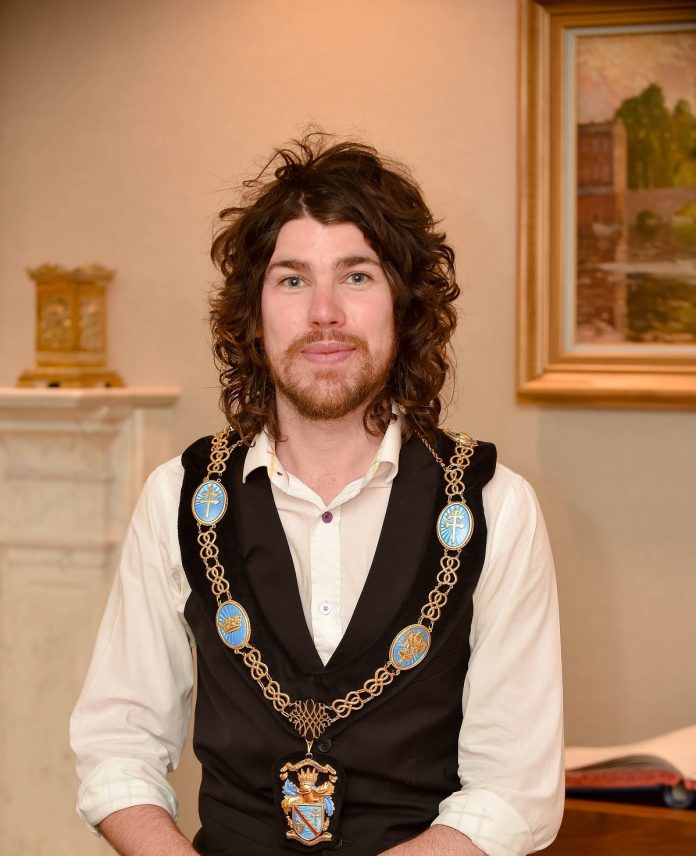 At the second annual meeting of Armagh City, Banbridge and Craigavon Borough Council Councillor Garath Keating (SF) was elected as Lord Mayor and Councillor Paul Greenfield (DUP) as Deputy Lord Mayor.
Lord Mayor Councillor Garath Keating said in his inaugural address: "We've come a long way in our first year together creating a strong, dynamic council and I aim to continue building upon this. I hope to be a prominent ambassador for the Borough and our 204,000 residents. I want to work closely with our local businesses, producers and large scale employers to support them in driving the economy forward and providing employment opportunities for our residents."
He adds "I believe the position of Lord Mayor has a great capacity to bring people together and throughout my year in office I hope to work closely with local communities and groups to strengthen community relations and celebrate the Borough's rich diversity and cultures. This area has so much to offer and I look forward to working with our staff to champion everything we have available to the outside world to show what a wonderful place this borough is to live, work an do business."
"My door will be open to everyone – any queries, questions or comments you have, please don't hesitate to let me know and I will help in any way I can. I look forward to 'getting stuck in' and meeting all our residents"
The Lord Mayor is based in The Palace Demesne, Armagh and through his work will help to deliver some of the key priorities for the borough – prospering the place; serving the people; and strengthening its position.
At the Annual Meeting Councillor Gareth Wilson (DUP) was nominated as an Alderman to replace Carla Lockhart MLA and Chair and vice Chairs were elected to the following Committees:
| | | |
| --- | --- | --- |
| POSITION (YEAR TWO) | PARTY | NAME OF COUNCILLOR |
| LORD MAYOR | SF | Councillor Garath Keating |
| DEPUTY LORD MAYOR | DUP | Councillor Paul Greenfield |
| CHAIR OF GOVERNANCE, POLICY AND RESOURCES | UUP | Councillor Carol Black |
| CHAIR OF PLANNING AND REGULATORY SERVICES | SDLP | Councillor Mealla Campbell |
| CHAIR OF STRATEGY AND COMMUNITY PLANNING | SF | Councillor Gemma McKenna |
| CHAIR OF ECONOMIC DEVELOPMENT AND REGENERATION | UUP | Councillor Colin McCusker |
| CHAIR OF ENVIRONMENTAL SERVICES | DUP | Alderman Robert Smith |
| CHAIR OF LEISURE AND COMMUNITY SERVICES | UUP | Councillor Glenn Barr |
| CHAIR OF PERFORMANCE AND AUDIT | SF | Councillor Darren McNally |
| VICE-CHAIR OF GOVERNANCE, POLICY AND RESOURCES | DUP | Alderman Freda Donnelly |
| VICE-CHAIR OF PLANNING AND REGULATORY SERVICES | UUP | Alderman Arnold Hatch |
| VICE-CHAIR OF STRATEGY AND COMMUNITY PLANNING | DUP | Alderman Junior McCrum |
| VICE-CHAIR OF ECONOMIC DEVELOPMENT AND REGENERATION | SF | Councillor Keith Haughian |
| VICE CHAIR OF ENVIRONMENTAL SERVICES | UKIP | Councillor David Jones |
| VICE-CHAIR OF LEISURE AND COMMUNITY SERVICES | DUP | Councillor Jonny Buckley |
| VICE-CHAIR OF PERFORMANCE AND AUDIT | SDLP | Councillor Joe Nelson |