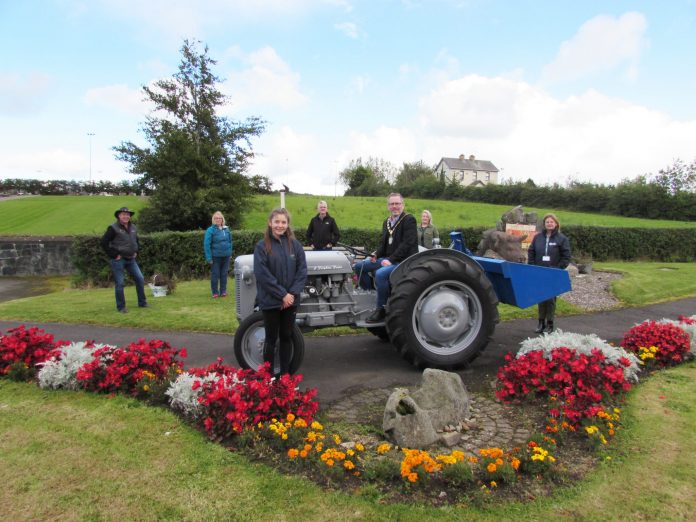 In recent months, local residents have shown incredible selflessness in helping others in need during the Covid-19 pandemic. The strength of community here isn't surprising however as many of the borough's residents were displaying tremendous community spirit long before lockdown through the council's adopt-a-street scheme.
While council street cleansing teams regularly clean hotspot areas, the Armagh City, Banbridge and Craigavon Borough covers over 500 square miles making it impossible for council cleansing teams to be everywhere. The incredible volunteers for the council's adopt-a-street scheme help alleviate this pressure by spending their free time cleaning up a specific area of the borough, playing their part in making the Borough look beautiful for residents and visitors.
Adopt-a-street volunteers come from all walks of life and all age ranges. Volunteers – which can be schools, community groups, individuals or businesses – collect litter in their chosen area at their own pace on days and at times that suit themselves. They provide invaluable support to the council's normal scheduled cleansing services, and in return the council offers support the volunteers by providing all the equipment needed to carry out the task safely. Equipment such as litter pickers, gloves and hi-vis vests are all that's needed to get started, and when bigger collections of waste are collected, council will come and clear it away.
Lord Mayor Councillor Kevin Savage comments, "It's a sad truth that neighbourhoods that look uncared for attract more antisocial behaviour such as littering. However we can take heart knowing that the opposite is true as well – if an area is clean and litter-free then people are less likely to drop litter in that area. That's why initiatives like adopt-a-street are so important – our council officers simply can't be everywhere at once, so the more effort local residents put into making their areas look nice and keeping them clean and litter-free, the more likely they are to stay that way.
"By volunteering you can help make a difference to your local area and also foster a feeling of community spirit. Cleaner streets lead to a feeling of safety and pride in our local environment."
One of the groups involved is Ballymacnab Community Development Association: Ballymacnab Green Spaces. The group is made up of a team of multi-generational volunteers who are driven to make a difference. They encourage members to be proud of their land and pull together to help the environment through regular litter picks, landscaping and environmental education throughout the year.
The group was recently awarded funding from Live Here Love Here (LHLH), one of the council's environmental partners through 'Keep Northern Ireland Beautiful'. In this round of funding, 46 excellent projects from across the Borough were awarded a total of £17,552 in grants ranging from £500 to £5,000.
The funding was secured so that Ballymacnab Green Spaces could work with a local school, youth group and senior citizens group to landscape the area around six garden seats on the path of the Seaghan Dam walking route and erect more bird boxes. Two of the bird boxes will even have cameras which will stream images to the Ballymacnab LHLH Facebook page! Through the local Covid-19 support group they also identified vulnerable families who they are planning on helping through a 'grow your own vegetables' scheme.
As well as organising regular litter picks, the group maintains the area by cutting grass and weeding flower beds in parts of Ballymacnab that might otherwise be neglected and untended. 17-year-old Emer Rafferty leads the group and, despite her youth, Emer is tenacious when it comes to her passion for the environment, "We are really passionate about the environment – we hate to see rubbish and the group gives us the opportunity to work with like-minded people to solve local problems for the greater good. We started out small but we're getting bigger!" It is indeed getting bigger; with over 450 followers on Facebook it's clear that Emer isn't alone in her quest for a beautiful Ballymacnab!
If you're interested in adopting a street but you're a sole environmental warrior, then don't worry, you're definitely not alone! Lots of individuals, such as Hubert Giraudeau of 'Greencycling' in Craigavon, have tremendous success as adopt-a-street champions in specific locations on their own with support from the council. Hubert is well known in the Tandragee Road area of Lurgan as he regularly collects rubbish on his bicycle which he has cleverly adapted to incorporate recycling bins.
In the Banbridge area, Kinallen Rural Community Development Association is particularly active, with litter picks taking place every Wednesday and locals of all ages are encouraged to take part.
Council has over 160 areas as part of its adopt-a-street scheme, but they could always use more. For more information on the scheme or to sign up, please contact Environmental Health at Armagh City, Banbridge and Craigavon Borough Council on 0300 0300 900 or . Once registered, participants will receive the necessary equipment such as litter pickers, bags and gloves as well as guidance notes, support and health & safety requirements.
Individual volunteers must be aged 16 or over to register, however groups of young persons aged under 16 can take part when supervised by an adult.
Learn more about the scheme here www.armaghbanbridgecraigavon.gov.uk/resident/clean-neighbourhoods/