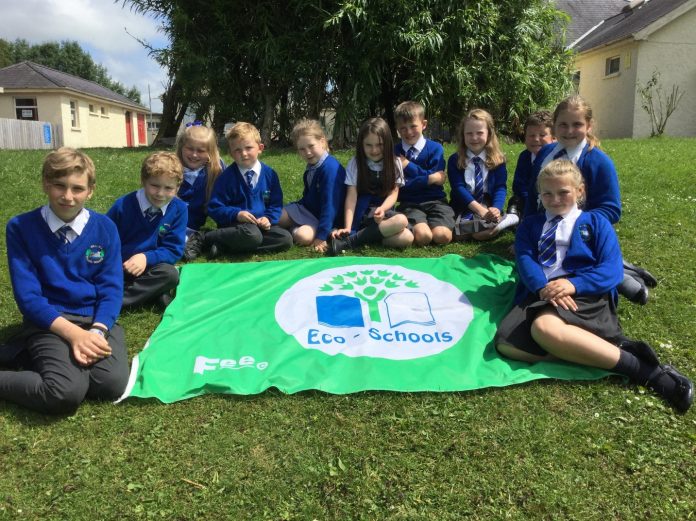 Pupils across the borough are flying the flag for the environment with an outstanding 19 schools achieving a prestigious Eco-Schools Green Flag or Silver award this year.
Eco-Schools is an international programme for environmental education and sustainability. It is a pupil-led initiative with the aim to make environmental awareness and practical action an intrinsic part of school life. Each school registered on the Eco-Schools programme sets up an Eco-Committee, made up of pupils who embark on a challenge to work towards improving the local and global environment through education and practical action.
The Eco-Schools highest award takes the form of the Green Flag, which is a great accomplishment, resultant from endeavor and dedication to improving environmental performance. This year Banbridge Nursery, Dromore Nursery and St Mary's Primary School, Derrytrasna all achieved their fourth Green Flags, while Killylea Primary School received their fifth Green Flag.
Council, who have been working closely with local schools assisting and supporting the Eco-Committees on their journey to achieve a Green Flag, would like to congratulate all involved for all their hard work and commitment in achieving their Eco awards.
Schools throughout the borough who have achieved a Green Flag or Silver award this year are as follows:
Banbridge Nursery Schoool, Banbridge
Birches Primary School, Craigavon
Bocombra Primary School, Portadown
Brookfield School, Craigavon
Carrick Primary School, Lurgan
College Farm Nursery School, Armagh
Dromore Nursery School, Dromore
Hamiltonsbawn Primary School, Armagh
Killylea Primary School, Armagh
Lisanally Special School, Armagh
Lismore Comprehensive School, Craigavon
Maralin Village Primary School, Craigavon
St Francis Primary School, Lurgan
St Francis' Primary School , Banbridge
St John the Baptist Nursery, Craigavon
St John's Eglish Primary School, Craigavon
St Mary's Primary School, Craigavon
St Mary's Primary School, Banbridge
Waringstown Primary School, Craigavon
Congratulations also goes to a number of schools who have achieved the introductory Eco-School Bronze award which is the first step on the ladder to achieving the highly acclaimed Green Flag.
For further information about the Eco-Schools programme please contact council on 0300 0300 900 or visit www.eco-schoolsni.org