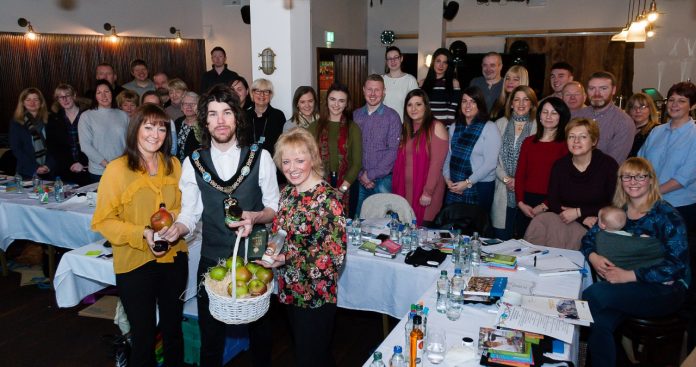 Tourism and hospitality businesses from across Armagh, Banbridge and Craigavon have become WorldHost Food Ambassadors and will now showcase the best of local produce, promoting the area as a top-class foodie destination.
The WorldHost Food Ambassador programme is a recognised training course for staff in the hospitality sector, helping them to develop their knowledge of local artisan food and drink produce.
The course, organised by Armagh City, Banbridge and Craigavon Borough Council in association with Tourism NI was hosted at Uluru Bar and Grill, Armagh and facilitated by Lynda Willis, Customer Sense Training.
A total of 30 participants were tutored on and discovered artisan produce from across the Food Heartland area and the wider Northern Ireland.
Lord Mayor of Armagh City, Banbridge and Craigavon, Councillor Garath Keating, said;
"Armagh City, Banbridge and Craigavon Borough is one of this region's largest agri-food production zones, with two PGI products, the Armagh Bramley and Lough Neagh Eel. Delegates at today's event had the opportunity to hear from local artisan food and drink producers and most importantly were able to sample a range of products from breads, oils, dressings, smoked meats, apples and chocolates.  It is so important that our frontline hospitality staff are well informed and have knowledge of all the wonderful artisan produce that is right on their doorsteps.  There was a true buzz from everyone in the room today and a real eagerness to spread their new found expertise with visitors to their own premises".
The programme follows on from the continuing success of the council-led Food Heartland initiative including the foundation of the Hospitality Forum which comprises a number of award-winning chefs and restaurants from across the Borough.
Louise McKinstry, Tourism NI Industry Development Officer said;
"We are delighted that Armagh City, Banbridge and Craigavon Borough Council are supporting the WorldHost Food Ambassador programme and with the participation of Uluru Bar and Grill, Armagh. The importance of our food and drink staff in promoting local produce cannot be underestimated and equipping them with the tools to do so, benefits us all. This practical customer service also allows tourism and hospitality businesses to build on the success of the Year of Food and Drink 2016 and make investment in people skills a lasting legacy within this industry".
With the quality of produce and the level of experience now on offer, participants will be in a great position to promote the area as the premier food destination to all visitors.