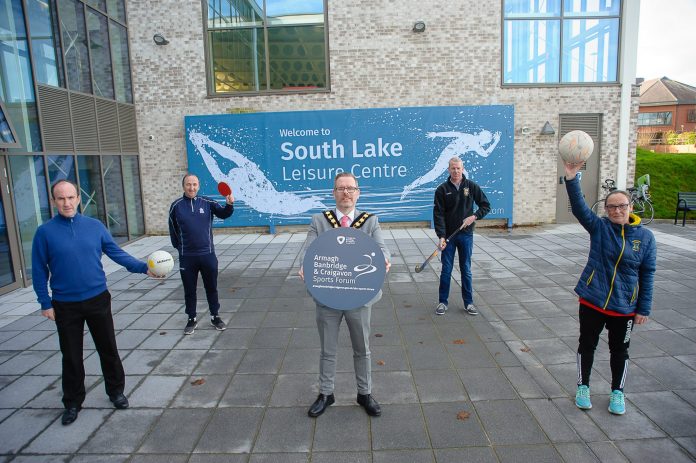 Some 42 sports clubs representing 20 different sports across the borough have each received £100 in grant aid after making a successful application to the COVID-19 Sports Club Recovery Grant programme.
Given the limited resources that sports clubs have at their disposal, they were able to use the funding to help with additional financial pressures faced as a result of the pandemic with the majority choosing to buy essential items needed to support a safe return to play such as hand sanitisers, face masks, gloves, cleaning products and social distancing signage.
Armagh City, Banbridge and Craigavon Borough Council in partnership with Armagh, Banbridge and Craigavon Sports Forum delivered this programme so that clubs could resume activities in accordance with government safety guidelines.
Lord Mayor Councillor Kevin Savage said: "We as a Council are proud to support our many local sports clubs, athletes, coaches and volunteers. Sports clubs continue to play a vital role within our communities and need our support now more than ever. I am delighted that in partnership with the Armagh, Banbridge and Craigavon Sports Forum, we can provide support to our affiliated sports clubs with a small grant to assist them with their increased running costs at this time."
Chairperson of the Armagh, Banbridge and Craigavon Sports Forum, Edith Jamison added:
"Sports clubs are continuing to face many challenges in the wake of the pandemic with many being hit hard financially with continued running costs throughout and increased spend to keep all members safe and well. We are delighted to be able to support our affiliated clubs with a £100 grant and thank Council for their continued support for the Sports Forum."
Sports clubs and individual athletes can still apply to become affiliated members of the Sports Forum this year, which is free to join.
New sports clubs wishing to affiliate must be affiliated to Sport NI, Sport Ireland or a UK sport recognised governing body. Affiliation includes a range of benefits such as access to club development grants, free places on the Coach Education and Club Development programme and receipt of regular sports development updates including grants, programmes and events. Eligible individuals can also apply for a talented athlete grant, a leisure access card and a sports bursary.
For further information on the Sports Forum and for details on how to become a member, visit armaghbanbridgecraigavon.gov.uk/abc-sports-forum
For further information, contact Assistant Sports Development Officer Amanda Mogey on 028 3831 1693 or email