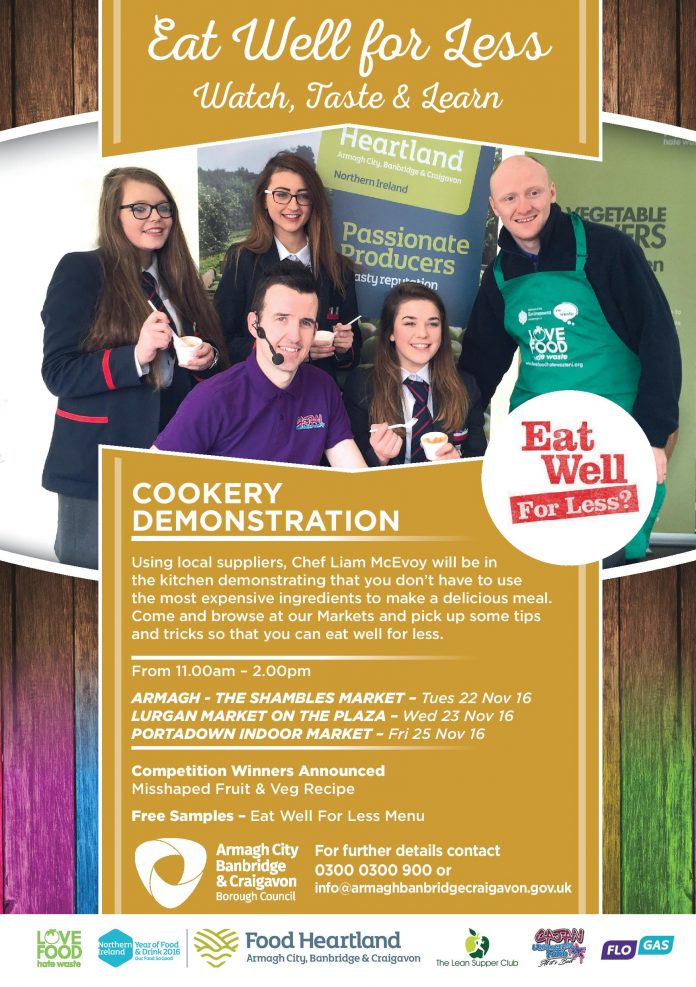 Top chef Liam McEvoy from the Lean Supper Club, Lurgan, will demonstrate how to rustle up delicious dishes at The Shambles Market, Portadown Indoor Market and Lurgan Market next week, highlighting how you and your family can 'Eat Well for Less'.
Using recipes based on the popular 'Eat Well for Less' TV show, Liam will whip up a storm at The Shambles Variety Market on Tuesday 22 November from 11am-2pm; Lurgan Market on Wednesday 23 November from 11am-2pm and Portadown Indoor Market on Friday 25 November from 11am-2pm.
Liam's demonstration will show how easy it is to cook up delicious healthy meals without hurting your wallet, and let you see if you can taste any difference between using everyday value ingredients compared to branded items when preparing meals.
As well as tasty samples, Liam will dish out handy hints and tips on how to eat well for less and shoppers will have the opportunity to ask questions about home cooking.  The events also supports the national 'Love Food Hate Waste' campaign, which aims to create awareness of the simple steps we can all take to reduce food waste.
As the events are taking place during European Week for Waste Reduction, the council's 'smoothie bike' will also make an appearance for a fun way to use up lonely fruit!  Just hop on the bike, pop some loose leftover fruit in the blender, and use your pedal power to create scrumptious smoothies!
These fabulous food event are organised by Armagh City, Banbridge and Craigavon Borough Council as part of the Northern Ireland Year of Food & Drink 2016, with a focus on November's theme of 'Legacy and Learn'.
For further information contact Kirsty Pinkerton on 028 3831 2525 or email .