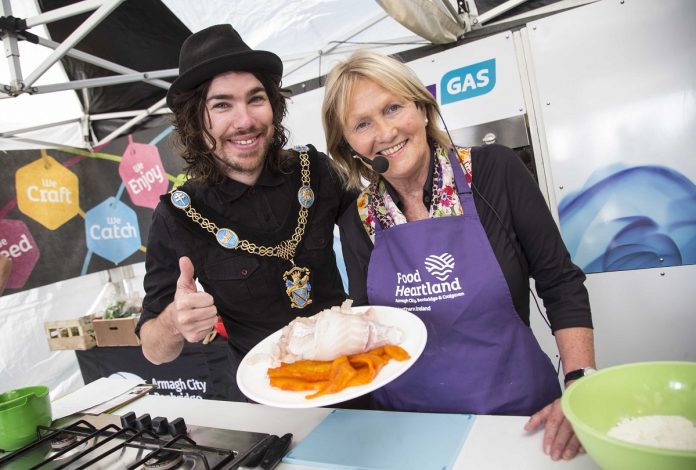 Celebrity chef Jenny Bristow worked her culinary magic at Lurgan Market when she hosted a cookery masterclass to hundreds of shoppers showcasing how to 'Love Food and Hate Waste'.
Organised by Armagh City, Banbridge and Craigavon Borough Council in support of the national Love Food Hate Waste campaign for Lurgan Town, the event drew big crowds keen to sample some of Jenny's delicious dishes while picking up some hints and tips on how to create the perfect feast! Jenny also gave some ideas on budget friendly family dishes and school lunches while making the most out of the weekly food purchases – just in time for the new school term!
Shoppers took home a range of goodies including recipe cards, free lunch boxes, cool bags, aprons and gift bags plus there will be some treats for the young ones in the audience including a fun-filled seed planting composting workshop to take home and grow their own veg!
Attending the event was Lord Mayor of Armagh, Banbridge and Craigavon, Councillor Garath Keating, who commented; "The 'Love Food Hate Waste' campaign recently found the average family waste around £700 worth of good food every year – money which could contribute to essential bills or a well- earned holiday. This event is a great way of promoting the importance of watching how much food we throw out and showcasing to locals that food made from leftovers can be delicious.  I really hope Jenny's cookery masterclass encourages more people throughout the Borough to be creative with their weekly shopping and leftovers and to use their imagination to cook up some really tasty treats!"
Sponsoring the event was RiverRidge Recycling. Attending was Pamela Jordan, Business Development Manager, who adds; "RiverRidge Recycling is committed to tackling the issue of food waste and is delighted to support this excellent event. Diverting food waste from landfill has become a priority and with new food waste legislation, RiverRidge offers a dependable and transparent waste management service, including a free waste management audit, to help identify the most effective and efficient solution to managing waste streams. We are continually investigating new and more resourceful landfill diversion strategies for food waste and are pleased to support this great opportunity to learn practical advice and recipes which will help consumers to get the most from food purchases, waste less and protect the environment from the damaging effects of food wastage."
For tips on ways to reduce your food waste log onto www.lovefoodhatewaste.com
Some raffle winners on the day included Tara Harbinson who won the Samsung Tablet, June Richardson who won the £50 voucher for Miller's and Helen McCullough who secured the £30 voucher for Eason's.
For further information please call Recycling Officer, Jennifer Cunningham on 028 38 312467